The place for University of Colorado students to be on a Friday afternoon after class, during the early sixties, used to always be at Tulagi "On the Hill" - across from campus, where they drank 3.2 beer and danced the current craze known in Boulder as the "Tulagi Twist." The big attraction at "The Tule" as it was called, was a very popular rock and roll band called, "The Astronauts." When they played, they packed the house!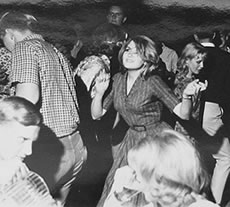 Tulagi Twist
Tulagi had originally been opened by Ray Imel and Rex Bailey as a 3.2 beer establishment in the location of the former Rialto movie theater, which is now the Fox Theatre. In 1951, they constructed a new nightclub in the same block and named it after a South Pacific island which had been involved in the infamous World War II battle at Guadalcanal. A large wall mural of a South Sea island scene graced the the backstage. After 50 years, Tulagi recently closed its doors forever - with the sound of music and dancing feet replaced by the patter of retail customers in the remodeled space.
The band was originally born in 1956, when Bob Demmon, a student at Boulder High School, teamed up with fellow classmate, Stormy Patterson to form a rock group. Demmon played guitar and Stormy played bass. Dennis Lindsey, later joined the group to play rhythm guitar and Brad Leach became the group's first drummer.
They gained recognition, when they got their own 15-minute radio show on a local Boulder station in early 1959. It was at that time that they chose to name the band, "Storm Troupers" - after Stormy Patterson. For obvious reasons the name created backlash and was eventually changed to "The Astronauts" - a name that paid tribute to a Boulder hero, Scott Carpenter, who was a real Astronaut. The band entertained their fans with established hits, such as, "Money Honey" and "Boney Maroney."
As their high school days came to a close, Leach got married and left the group. He later became Sheriff of Boulder County. Jim Gallagher, a former CU student replaced him as the group's new drummer. Guitar player Dick Sellers joined the band in 1960. Shortly after that Rich Fifield, who played lead guitar and did vocals, became the band's fifth member. Dennis Lindsey then replaced Sellers on guitar, when he joined the U.S. Navy.
In the fall of 1961, the group signed a contract to play at Tulagi, where they quickly became popular with CU students. They also played other venues, such as college parties and they began to gain national recognition as they toured cities and towns, such as Chicago, Dallas, Aspen, Colorado Springs, Estes Park and even Ogallala, Nebraska.They also scored a big hit when they played Denver's Trocadero Ballroom at Elitch's Gardens.
In 1962, Demmon was graduated from the CU School of Music, got married, and became a music teacher in the Boulder School system, but he remained the leader of the band. During that time, Stormy Patterson and Dennis Lindsey were students at Colorado State University in Ft. Collins and Rich Fifield was taking courses through the CU Extension school.
As the group's success grew, they were eventually able to increase their original 1956 investment in instruments from $100 to over $6,000, a sizeable investment in those days. Added also was a showy look - with yellow tuxedos trimmed in black and patent-leather shoes.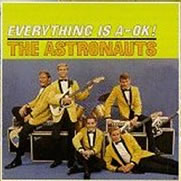 The band's big opportunity came in 1963, when they signed with RCA records, who was looking for a surfing sound to compete with Capitol Record's, Beach Boys surfing music success. Although there were no surfing beaches where The Astronauts came from in Colorado and they were not surfers, they scored a success with their first RCA album, "Surfin with the Astronauts," an instrumental which was released in May 1963. The album took the band into orbit and they reached No. 61 on Billboard's national charts. One of the songs, "Baja" which was written by Lee Hazelwood, who wrote hits for Nancy Sinatra, reached No. 1 on a Denver radio station and No. 94 on the national charts in 1963.
Tulagi gained national fame, after the Astronauts recorded their RCA album, "Astronauts Orbit Kampus" on location there in 1964. The band then went on tour and performed at colleges around the country. They also made several appearances on a television show called, "Hullabaloo" and made a couple of cameo appearances in teen movies.
A sampling of some of the popular songs recorded by The Astronauts includes: Bo Diddley, If I Had a Hammer, It's So Easy, Dream Lover, Wine, Wine, Wine, Money (That's What I Want), Big Boss Man, Stormy Monday, Shortnin' Bread, I Need You, What'd I Say, Johnny B. Goode, Be-Bop-A-Lula, Good Golly Miss Molly, Let the Good Times Roll, Linda Lou, Diddy Wah Diddy, Roll over Beethoven, Greenback Dollar, and Sticks and Stones.
Unfortunately, the group's success never rose above their initial chart position, even with attempts at recording other styles, such as the hot-rod songs on their "Competition Coupe" album.
In spite of their lack of continuing success in the U.S., the group became extremely popular in Japan. In 1964, several of the albums and singles they recorded with RCA made top 10 there.
The band continued touring through 1966 and recorded their final album, "Travelin' Men" in 1967, after which time, both Gallagher and Lindsey were drafted and sent to Vietnam. Rich Fifield became the last member of the original band as it transformed into other groups with different names.
The only appearances the Astronauts have made as a group since have been at several CU Reunions. I last saw some of the band's members ambling up to Tulagi to play for a CU class of 1964 reunion in the early 80's.
The Astronauts' albums and singles are still available on the web.
____________________


History for this article was derived from a story on the Astronauts by Doug Looney, published in the Fall 1962 issue of Colorado Re-Buff Magazine, also from a Pruett Press book, "Colorado Rocks! Five Decades of Rock Music in Colorado" by G. Brown, and from web sources. Copies of Colorado Re-Buff Magazine may be found in the Archives at the University of Colorado's Norlin Library.