Robert Blumenhein is busy auditioning for television and movie roles and modeling opportunities as he pursues a new late life career in Hollywood.
Formerly from Boulder, Colorado, Robert now lives in Santa Clarita, California, near Los Angeles, where the starstruck are still magically attracted to the glamour of the film industry.
Inspired to enter an acting career, when he became bored with retirement, Robert discovered the Santa Clarita School of Performing Arts, while looking for a drama school for his oldest daughter.
When the school's admissions department found out that he was also interested in acting, they made him, "...an irresistible offer on tuition," and he enrolled. In July of 2005 he began learn how to deliver monologues, do tv commercials, handle cold reads, act in commercials, perform on camera, and do voice overs. He was also trained in auditioning and improv techniques.
"Success, in acting," Robert realized, "depends strongly on having the passion to succeed. While in acting school, I began to develop the fire and passion one needs to make it in show business. At my age of 72, I can play parts such as a doctor, lawyer, cowboy, farmer or detective. I like the idea of immersing myself in a challenging role."
"Auditions are where you make it or break it in show business and I have been to a lot of auditions. You never know why you didn't get a part. They say, 'Thank you, you did a great job,' and that's it. Even if I don't get a role, auditions provide me with the opportunity to be under the spotlight. Since there's a lot of competition in Hollywood, the more you audition, the greater your chances are to achieve success."
"During an audition a director wants see how you interact with the camera and other actors. They are looking for a certain chemistry between actors. You read only brief portions of scripts in auditions. The script is placed on a board or on a big screen, so you can read it at a distance, while you are looking at the camera. If you forget a line, during an audition, you just have to improvise. The casting director tells you what to do and how to do it and lets you know whether he wants a high energy or a low key presentation. Your profile is filmed from both sides, along with a straight of shot of your face. Auditions are usually held in a room in a casting building, not on a stage and you may need to improv without the benefit of props. Auditions normally last only five to ten minutes and may involve a number of people. You never get feedback, unless you get a call back. The call backs are exciting, even if you are not selected, because you know the director saw something about you he liked."
"I usually play it straight when I audition, but when I tried out for the role of a librarian in Disney's third production of "Pirates of the Caribbean, there were eight or ten other actors also trying out. I was the first one up and I mistakenly acted the part as an intellectual. I later realized that I should have played the part as a salty old bucanneer. It pays to take risks and use your imagination when you are auditioning for a role. Everytime I
tryout, it's a different experience. When I come home, I always tell myself that I should have done something differently or better, but then it's too late, so I just let it go."
"I have gotten some cameo roles, which offer a good starting place, because they allow me to show my talent and perhaps capture the interest of a director. My first role was in 'Welcome to Paradise,' which was an interesting moral film about a small Texas community. The second film was "Crime in America," staged in Indiana in 1965. It was about child abuse. I have also been in a Reba McIntire music video, in which I played a role as a doctor. In another role, I was a church member. I also recently played the parts of both the Capitan and the Priest in Shakespeare's "Twelfth Night" - a stage production produced by the Santa Clarita School of Performing Arts. Playing a variety of roles keeps acting interesting."
Blumenhein has also appeared in print ads and has auditioned for ads for companies such as Target , Lexus and Nabisco. He usually has auditions two or three times a week in Hollywood.
Robert was signed by an agent, when he participated in a week-long competition program for IMTA - the International Model and Talent Association - a big event in which over a thousand people of all ages participated. He said, "the competition put me in front of casting agents, producers and movie people." During the competition, he explained, "They asked you to deliver a monologue, a sitcom and do a cold read - and they took head shots." Robert won 4th place runner-up for his sitcom reading and his headshot won first place in his category of 21 and older.
His agent, Joy Parris at L/P & Associates, lines up auditions for commercials, movies and television. She promotes him over the internet through a site called LA Casting, "where your face, resume and modeling photos are showcased for casting agents and directors to see you. That way you get exposure and invitations to auditions.- which are then handled through your agent."
Another agent ,Tag Turner at Tag Turner Models, lines up modeling jobs for magazines, newspapers and other print media.
To further his acting career, Robert has become a member of SAG, the Screen Actor's Guild.
Robert offered the following advice to other aspiring actors - "You need to have a plan before starting a career like this and ask yourself, why am I doing this?" He added, "It does cost a lot of money, however, to enroll in acting school and join professional organizations to launch a career. In the first year I spent $20,000 getting started in acting. You need to go into it with a positive attitude, then wait and find out what happens."
Blumenhein's goal over the next five years is to, "...stick with it and try to win some parts in major movies - playing comedy, improv or serious drama roles." Meanwhile, he is dedicated to putting forth his best effort and to, "...having a great time along the way."
Prior to pursuing an acting career, Robert's professional life took him from being the Director of Recreation for the City of Boulder to the Peace Corp in Sri Lanka, then into real estate and educational book sales. He also worked for the U.S. Census Bureau and became the Director of Admissions for Columbia College in Columbia, Missouri.
Robert holds a Bachelor's Degree in Psychology and Alternative Higher Education from the former Lorretto Heights College in Denver, Colorado.

He is married and has three grown three children. He recently became a grandfather - twice. Among his special interests, when he is not auditioning or acting, is competition horseshoe pitching.
With all his experience and endeavors, Robert expressed the thought that he still wonders what it is he really wants to do at this stage of his life. He thinks for now, pursuing an acting career is the right course. "I hope that I make it by the time I am eighty years old," Robert mused.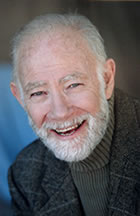 Robert may be contacted at:
bowlerwin@yahoo.com
His agent, Joy Parris may be contacted at:
Rich Girl Productions & Management
323-960-5600
jparris@richgirlproductions.com