Denver artist, Stevon Lucero's intriguing, dream-like paintings reveal the metaphysical realizations of his own personal spiritual journey through life. Stevon characterizes himself as a philosopher - artist and explains that each painting he does reflects a metaphor of an internal dialogue between himself and God.
Now 61, Stevon has been painting for over forty years. He recalls, that since he was a child, he has experienced lucid dreams and visions and has more then once, "ventured into separate realities."
Stevon asserts that through his revelations and studies of metaphysical, philosophical, and historical media, he has, "been guided to create two unique art forms - Metarealism and Neo-Precolumbian Aztec art."
It was in 1968, that Stevon initially developed his concept of "Metaphysical Fantastic Realism" which, he noted, "later evolved into "Metarealism." He describes his concept of "Metarealism" as, "the externalization of interior realities that are transformed into visual mystic metaphors via the process of the philosophic state," which he calls "polar synthesis."
According to Stevon, his paintings are neither reflections of the conscious, as in realism, nor the subconscious, as in surrealism. They are instead, he postulates, "a visual syntheses that symbolize the spiritual continuum to which they owe their existence and which lies at the center of their being and all being. Their being is therefore the personification of thought realities or thought forms."
Stevon's Metarealism work has been exhibited in many one-man shows throughout the United States. In 1996 he was recognized by the Museo de las Americas in Colorado with a one man show, where he presented more than 58 paintings, titled, "Stevon Lucero's Metarealism."
In 1984, Stevon developed his "Neo-Precolumbian Art" concepts. Proud of his ancient ancestry, Stevon explains that he, "re-visions images of Pre-Columbian Mexico" into new vibrant paintings, which illustrate a power and depth, "that to modern eyes are dead and have no meaning." Stevon recreates these ancient images and infuses them with, "new meaning without violating the spirit of their original creators." Lucero's declares his intent is not to exploit these images, but to evolve them as modern interpretations of Latino heritage derived from origins in ancient Mexico.
As an affirmation of the credibility of his work, Stevron relates a story of a visiting Medicine Man from Mexico, known as Tlacaelel - whose expertise includes reading original codex images - who declared upon seeing his "Sacred Tree" painting that Stevon was, "one of the few artists on this planet who painted with true spirit vision."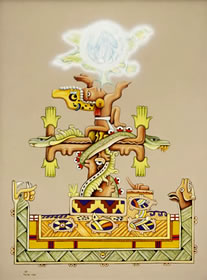 Sacred Tree
(Note: Other examples of Stevon's "Neo-Precolumbian Art" are not shown in this article, but will be presented in a future article in this magazine.)
In addition to his canvases, Stevon began painting murals in 1978. Since that time, he has gained recognition as an accomplished muralist. In 1992, the Denver Museum of Nature and Science in Colorado commissioned him to paint the "Tlateco Market" diorama as part of an exhibit entitled "Aztec: The World of Montezuma."
During his career, Stevon has produced over 1,200 paintings. His paintings are collected by both private individuals and corporations throughout the world. His artistic visions and philosophies have received media coverage in newspapers, magazines, television, film, and video interviews in the US and internationally. He is in demand after as a lecturer and many of his lectures have been recorded by various institutions, including Harvard and Columbia University. Edited by Mel Fenson.
Stevon's work is available from the CHAC Gallery
Chicano Humanities and
Arts Council
772 Santa Fe Drive Denver, CO
303-571-0440
For more information, visit: