by Mel Fenson
New Mexico artist Richard Knadle, a native of Roswell, recalls that he learned to paint when he was young by copying the work and techniques of old European masters. Among those painters were Sir Peter Paul Rueben, a seventeenth-century Flemish Baroque painter, whose paintings emphasized movement, color, and sensuality, and William Turner, a famous English romantic landscape artist. Richard's work was so good that it caught the attention of a Christie's fine art auction house representative, who discovered some of his early paintings in an antique shop, when he happened to be passing through Roswell in the mid-80's, 30 years after they had been painted. He purchased all of them for resale in a gallery where Christie's sells reproductions.
Explaining his work method, Richard said he starts with watercolor reference sketches for his New Mexico landscapes and supplements those with reference photographs. He then translates those sketches into full-scale paintings. His colorful studies of cowboy paraphernalia are done from studio displays. He also creates sculptures in bronze.
Richard noted that his painting has been influenced by the works of Georgia O'Keefe and Peter Hurd, who was a personal friend of his, and many other painters. He has also been influenced by Salvador Dali's realist paintings, as illustrated in his painting of a symphony orchestra, shown below.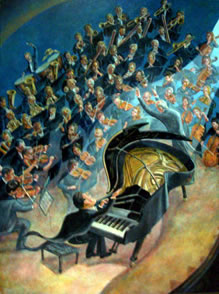 Crescendo
Although he previously worked in oil, he now works primarily in watercolor and acrylics. He explained that he only uses red, blue and yellow, which he mixes to create the colors he wants to work with, plus white. He added that he sometimes paints as many as seven layers, which he thins down to appear as transparent. Richard's paintings range in size from 16 x 20 inches, up to 4ft. x 4ft.
Richard was graduated from Roswell High School in 1960, then attended the University of Colorado. He was graduated in 1964 with a BS degree in marketing and a minor in art, which was focused on bronze sculpture.
After college, he went into the army through the army reserves. When he finished active duty, he went to work as an assistant film editor, writer and graphic artist in the news department of a CBS television affiliate in Los Angeles. He noted that his responsibilities also included greeting celebrities, such as Gloria Swanson, Ronald Reagan and Carol Burnett, who came to the studio for interviews.
During his time at CBS, he also attended Otis Art Institute in Los Angeles, where he received additional training in commercial and graphic art.
After seven years with CBS, Richard returned home to Roswell to buy out and manage his family's retail dress shop, when his father retired.
In 1986 he left the retail business and became a freelance commercial artist in Albuquerque, New Mexico. He enrolled in graduate school at the University of New Mexico there in 1989, where he received certification to teach K-12 art in public schools.
After he received his teaching certificate, Richard taught art for five years at a new middle school, established at the Laguna Pueblo, 40 miles west of Albuquerque.
While teaching there, he was commissioned to paint several large murals on the walls of the Laguna Middlle School, which illustrated the history of the Pueblo.
After five years at the Laguna pueblo, Richard returned to Roswell to teach art at Roswell High School, where he retired after 11 years. While he was there, he also taught art as an adjunct teacher at Eastern New Mexico University in Roswell.
His work is represented in private collections throughout the US, in England and
Australia. Richard's paintings have been exhibited in galleries in Los Angeles and at museums at Eastern New Mexico University in Portales, Eastern New Mexico University in Roswell, and at New Mexico State University at Las Cruces. The Artesia, New Mexico Museum has also exhibited his work. Some of his paintings were included at Master Works Show in Albuquerque at the State Fair grounds last spring. Richard will be showing his work in an international art show, sponsored by the Roswell Fine Art League and Miniature Show, at the Roswell Museum next August. His sculptures were shown there last year in a one-man show. Richard's work is also currently exhibited at the Co-op Gallery in Roswell.
Now 67 years old, Richard is retired and spends his time doing painting and sculpture, "Which is what I enjoy doing." He also continues to accept commission work.
Richard can be contacted
for portfolio requests at
Knadle8@gmail.com
(575) 625-0529
Roswell, New Mexico
________________________________

Description of
Spirit of Laguna Pueblo
(at top of page)
All elements in this painting, commissioned by Laguna Industries, reflect something about the Laguna Pueblo Spirit: The clouds symbolize that things are forever changing; Mt.Taylor, which rises in the background (30 miles west of Laguna) has spiritual meaning to the pueblo because it is where the Great Spirit resides; the roots signify that things are forever growing and are also symbolic because they are used to make soap; the humming birds feeding on the yucca pods are symbolic of the Laguna Industries' satellite companies; the eagle in the sky symbolizes the soaring spirit; the olla (water jar) at the bottom - is pouring water, the sustenance of life; painted on the jar's side is a golden eagle, the symbol of the Laguna Pueblo.
________________________________