Reflecting her spiritual connection to the west, K.L. (Katharine) McKenna uses bold brush strokes to bring her canvases to life with rich rustic reds that capture the rugged rock formations in Wyoming's canyon lands and the magic of Arizona's desert expanses. And, she paints with brilliant yellows and greens to create dramatic images of the mountains and meadows of Colorado and Montana.
Katharine's love for the west was nutured during childhood summers spent with her family in remote locations in Wyoming and Colorado, where her paleontologist father, who worked for the Museum of Natural History in New York, searched for fossils. She grew up riding the range, exploring the western landscape and camping under western skies.
Born in Berkeley, California, McKenna holds a BA in American Studies with a minor in Anthropology from Wesleyan University, Middletown, Connecticut and a Master of Industrial Design from the Pratt Institute in Brooklyn, New York. She also studied art at the Kingston School of Art in Kingston, New York.
"Through my formal education," McKenna explains, " I was trained to discover color in shadow and to use many hues and values to create light. The use of line and space in my compositions combines abstract and figurative elements, which are sculpturally fused by bright color." Her plein-air paintings, executed in oil, combine elements of both abstraction and realism.
Prior to her career as a fine arts painter, she worked as a designer for exhibition design firms in New York and as a designer of graphical user interfaces for financial software applications. She was also awarded a U.S. Patent for "The Geozoo," an educational toy, she designed to stimulate nonverbal thought.
Katharine has exhibited in a variety of galleries across the United States and in Germany and her work is included in many corporate and private collections. Her painting Wind River Canyon, Wyoming was selected by the Borderlands Gallery at the Booth Western Art Museum in Cartersville, Georgia for its permanent collection.
Her paintings are currently represented by a number of galleries, including: Dolce in Telluride, Colorado; Windham Fine Arts in Windham, New York; Red Raven Gallery in Big Sky, Montana; Visions West Gallery in Boseman and Livingston, Montana; Stonebridge Western Treasures and Fine Art in Madison, Georgia; Enderlin Gallery in Roxbury, New York; and Westgate Fine Art in Columbia, Missouri. She also has her own art gallery, the Coffey Gallery in Kingston, New York.
McKenna is currently on the Board of Trustees at Pratt Institute and is President of the Arts Society of Kingston, which she co-founded in 1995. She also holds memberships with the Woodstock Artists Association and the Woodstock Byrdcliffe Guild.
Now a resident of both Woodstock, New York and Ward, Colorado, McKenna paints on site in Colorado, Arizona, Wyoming and Montana throughout the year.
Edited from Web Sources by CMO Staff
Photos courtesy, Katharine McKenna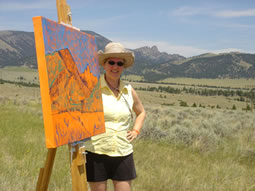 Katharine McKenna paints
Sleeping Giant
a mountain near Helena, Montana
For more information, visit:

www.klmckenna.com