'Lollipop, lollipop,-- tell you why', the strolling kind, the roving kind, the grooving kind, any kind. So, 'go-cat-go', it's the Fabulous 50's when the world suddenly awakened to the bugle call of youth with a new sound of music, their kind of sound, with their own teen style of musicians.
Cleveland disc jockey Alan Freed dubbed himself 'Moondog,' becoming a creature of the night, baying and howling in the darkness over the air waves with this new sound of Rock and Roll that anyone could dance to without lessons. And dance they did to the new beat. No more waltz strains, singers now improvised drums with snapping fingers and repeating non-sense syllables , the new sound of doo-wop music. The Rock and Roll Generation had arrived.
'Lollipop, lollipop,-- I call him that when he does his shaky rockin' dance'. Down at Lute's Malt Shop, the sassiest group of girls, clean, cute and giggling crowded elbow to elbow in the most conspicuous window booth, sipping Cokes all around, wearing starched white blouses, cinch belts and full skirts covering at least two crinoline petticoats. Cuffed white bobby socks, penny loafers and the indefatigable saddle oxfords completed the groovy foot attire.
"Hey,-- hit #3-A on the table nickelodeon by that new guy, Elvis. What kind of name is that, anyway? Elvis?"
"No, play Patti Page's, "Tennessee Waltz,"--
"You're so square, Nonnie. That sound is o-u-t,-- like out."
"Well, which one? "Hound Dog," or "All Shook Up?" Both are Elvis, you know."
The magic moment is here. He, the James Dean look-alike in his leather jacket, white T-shirt and faded jeans has just strolled in smiling that smirky smile of his , looking at each of the girls in turn. Swoon time.
"So the old 'Hound Dog' is 'All Shook Up?" He makes it sound so neat. Swoon again.
"Any of you girls watch "Gunsmoke" last night?" This from the crewcut wonder in the next booth.
"Oh, all Matt Dillon does is walk around Dodge looking for Miss Kitty,"-- Susie was good at fielding these things. "I watched Ricky Nelson,-- those eyes of his are so dreamy. He sang, "I'm Walkin', like only he can sing it." A long sigh.
"His Dad Ozzie doesn't even have a job,"-- the Bookworm Central guy from the booth across leaned over to say.
"The whole family sings, except maybe for his brother David," the usual dumb remark from Bookworm's girlfriend who does have the longest ponytail to her credit.
"I like Kookie Barnes on "77 Sunset Strip," Nonnie wears gooey purple lipstick and slinks when she walks. It's a shade, she tells us, called, "Purple Passion."
'Lollipop, lollipop, just like lightning from the sky,' "The movie starts at 1:15, you girls going?" this from the counter bar stool, a guy that drives a pink '41 Ford Coupe. Don't know about him.
"So, what's on?" In chorus.
"Johney Guitar" with Joan Crawford."
"Joan Crawford is 'Johney Guitar' in black leather? I didn't know she even played a guitar."
"Not her, stupid. Some blonde guy who looks like a Swede."
"Well, there's "The High And The Mighty" playing at the Rialto. Or, "The Glenn Miller Story" at the Roxy."
A long groan from the window table girls. "How about, "The Moon Is Blue?"
"Can't go to that one. My Mom says its' too,–"
"Suggestive," she's the one who dates the Bookworm Wonder. No wonder.
"We saw "Roman Holiday" last week. Audrey Hepburn is so, so skinny. She must never eat." Laura just drained the last of her peanut butter milkshake with a shrug away from skinny.
"Why don't we all go shopping instead of seeing a movie?"
'Lollipop, lollipop,-- sweeter than candy on a stick,' strolling down small town, Main Street America on an after school afternoon.
"Look, there's Howie,–" heads all turned to see. Couldn't ever miss Howie in his Pink Ford Thunderbird convertible, his Mom's, no doubt, but does she ever drive it? What is it with all this pink anyway? Like what Prez Prado wears when he's graveling out the sound of his hit song, "Tequila." Pink and black suede loafers for guys, too. Bet Howie is wearing a pair right now to match his pink T-Bird.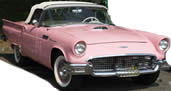 There's Prissy Loretta waving at us with her silly little wave, driving her Parisian blue Plymouth Fury, with its tail fins like rocket thrusters. Forward motion like in football, right, guys? Or was that Backfield in Motion, like what the guys say when Sandra Sexy walks by?

On the corner by the filling station, a banner is flapping, "See the USA in your Chevrolet," or hey, why not just ride the red-winged flying Mobil Gas horse across the USA and really see the countryside?

'Lollipop, lollipop, huckleberry, cherry or lime,' the group pauses now at Dressler's Department Store window. Oh, those Barbie-doll mannequins, does anyone really have a figure like that? Maybe a 'waist-cincher' would help, but what an agony to squeeze into.
" I just have to have that charm bracelet she's wearing. It has a poodle on it."
"You and your poodles. You have them walking all over your skirt as it is."
"I like that birdy neck scarf that matches her pencil skirt."
"It doesn't even match."
"It does so."
An 'oogah' horn from the stop light across the street. Here comes "Shake, Rattle and Roll" Harry cruising by in his 1932 Model B Ford. Hot Rod. The license plate says, "Hook," nice touch, Harry. Why don't you call one of us for a date?
"Slumber party at my house tonight. Tell the guys they're not supposed to come by."
"Sure, like last time."
"Bring your new "Mad" magazine."
"And a Whitman's, and the new Coty face powder, and the new Cutex nail color. What's it called? Temptation?"
"Just bring Elvis' "Heartbreak Hotel," or the Everly Brothers, "Bird Dog" on your '45's. We can stay up all night reading Mickey Spillane's, I, THE JURY."
"Lollipop, lollipop, tell you why,'-- that crazy song just hangs in your mind, guides your footsteps, makes you smile.
"Anyone have a date to the Sock Hop Saturday night?"
"I do," Nonnie purrs, "with Howie. We're going in his pink T-Bird convertible."
Sighs all around. "Maybe we should go back to Lute's Malt Shop and flirt around a little. Hey, it's only Friday."
And a 50's Night,-- All Right, All Night.
by Betty Boellner-Jones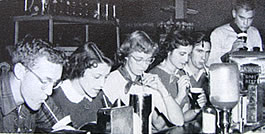 Photo by George Carothers
Lollipop Music by The Chordettes
Written by Ross/Dixon
Published by Warner/Chappell Music Ltd.