by Mel Fenson
Summertime is carnival time - when you can experience the thrills of wild rides, taste cotton candy and corn dogs, and be with the crowd.
When the Wight's Amusements carnival comes to town, it always brings lots of colorful excitement. The Carnival actually travels year-round to State and County Fairs, and sets up in malls in cities and towns and at festivals and special events throughout Colorado, New Mexico, Arizona, Wyoming and Texas.

John Ring and his father are the present day owners of Wright's Amusements, which is based in Elbert, Colorado.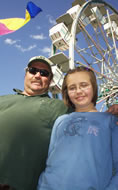 Carnival Owner, John Ring and
His Daughter, Amanda
The Carnival was founded in 1962 by John's uncle, Floyd Wright, along with his two brothers, Frank and Charles.
John Ring , who grew up with the Carnival, said, "We have a total of 29 rides that can accommodate 10,000 riders per hour.
John said the newest ride acquired by the Carnival is, "The Spin-Out, which is a high-tech, computer-controlled ride. It is a fantastic piece of machinery which was imported from England. We acquired our big Kamikaze ride in 1997. It was imported from Italy.
Setting up the Carnival in a new location takes a lot of work and requires an organized logistical plan. Ring said, "It takes two days to erect all the carnival rides, set up all the lighting and prepare for the public. He said, "In addition to our full time staff of about 35 people, another 20 to 30 local people are hired to help erect the carnival, when it arrives in a new town and to help disassemble the equipment when it departs for the next town."
Greg Zogt, nicknamed, Opy, is the personnel director. He is John Ring's right hand man and he oversees all ride operators and concession people. He has been with Wright's Amusements for 15 years. He said about carnival life, "you're always busy and on the go." For him life with the carnival is, "...just having fun with each other - like a big family."
Ring said, "we have 45 to 50 vehicles traveling each week - hauling the equipment and rides, including living quarters for the carnival workers. It's all self-contained - everything is mobile.
The Carnival generally stays 10 days at each location and spends a couple of days traveling between cities.
John says his life is all about making sure everything is running smoothly and assuring that everyone is having a good time.
John's advice for anyone considering joining a carnival:
"It's a rough life, but you get to see and meet a lot of different people. It would be a great to try out for a year, if you have no ties - and you might love it or you might hate it."