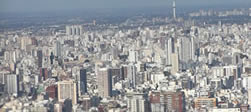 Buenos Aires
As a result of a major devaluation in its currency three years ago, Argentina has become a relatively low cost country to visit. We planned an itinerary for a two week trip there in August 2004. We contacted a travel agent in Chile who had been recommended in a traveler's posting on Frommer's web site and he then booked our flights within Argentina, most of our transitions to and from airports, and most of our hotels and excursions.
Impressions of Argentina

A number of things about Argentina surprised us. First, Buenos Aires is very European in appearance and feel. Our other experiences in South America have been in Ecuador and Peru. These countries are a lot like Mexico and are very much Third World countries. Argentina on the other hand seems very much First World - modern and prosperous. In Peru, Ecuador and parts of Mexico, indigenous cultures are very prominent and traditional markets are common. Nothing of this sort is seen in Buenos Aires or in Patagonia.
Second, the temperatures were less extreme than we anticipated. Buenos Aires is very hot in the summer time (December-February) and Iguazu is hot year round. We had timed our visit to escape the peak of the heat and the peak of the crowded tourist season. But we were surprised to find very moderate temperatures in both Buenos Aires (low 80s) and at Iguazu Falls (high 80s).
It was also not as cold and windy in Patagonia as we had anticipated and the terrain was less forbidding than expected. The Peninsula Valdéz area and the region around El Calafate were indeed rather barren with practically no trees but they were far from bleak. The landscape was like that of Wyoming or southern New Mexico with scrub brush and prairie grasses. We did encounter some extremely strong winds at an overlook where we had gone to see a colony of seals. They were strong enough at times to require you to hold on to railings to remain upright - perhaps 60 miles an hour or even higher. With thermals and jackets, we were never really cold in Patagonia except when exposed to the wind on the outside boat decks while visiting Glaciers National Park.
Next, we were surprised (and impressed) at the level of organization and efficiency in the tourism industry. Most individual travelers and travel groups (including Argentineans) appear to rely on local providers, who meet flights, deliver passengers to their hotels, and provide transport to and from scheduled excursions (such as boat trips). The providers in each location are apparently networked in some seamless fashion. We were unfailingly met on schedule at airports and picked up at specified times for excursions. These agencies also reliably reconfirmed our domestic flights (we had six of them) and our departing international flight. This system makes it quite easy to plan and implement a complex, independent travel itinerary. Incidentally each of our Aerolinas Argentinas flights departed and arrived on or ahead of schedule. Without exception, the gate agents and flight attendants were efficient and courteous and hot or cold meals were always served, even on flights as short as an hour.
The largest number of tourists in Patagonia other than Argentineans comes from Italy and France. Smaller numbers come from Australia and Germany. We usually encounter British tourists everywhere we go but we did not see any in Patagonia. We also only met a couple of Americans.
Finally, we were surprised at the quality (and the low cost) of the food everywhere. Beef is king in Argentina and is traditionally prepared on large spits indoors or outdoors. Fresh pastas are also available practically everywhere. Pizzas are very popular and very good. With few exceptions, there is no need to drink bottled water and fresh vegetables could be consumed everywhere we traveled. The national snack food is empanadas (beef, chicken, cheese and onion and numerous other varieties). These delicious treats are available in most restaurants, even higher priced establishments, and usually cost 45 to 60 cents each.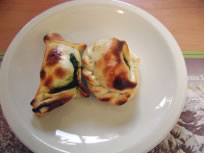 Empanada
Here is our trip report, organized in a day-by-day format.
DAY 1
Departed San Diego on American Airlines at 1:44 pm, March 11, 2004.
DAY 2
Arrived in Buenos Aires via Dallas at 9:16 am. Our hotel, the Aspen Suites, was perfectly situated in the Microcenter, the principal commercial center of Buenos Aires. If you were plopped down here and asked to guess your location, your first response would almost certainly be somewhere in Europe. The architecture strongly resembles that of Paris and the numerous cafes have a Parisian look. One big difference relative to Europe is the cost of food and lodging---a mere fraction of European prices. The three star Aspen Suites Hotel (where we had a living room, bedroom, full kitchen, 2 televisions, and 2 air conditioners) was $30 per night including a nice breakfast buffet. Meals at excellent restaurants
in Buenos Aires ranged from about $3 to $6. Costs were significantly higher in Patagonia but still moderate.

European-Styled Architecture
One of the main shopping districts centers around Florida Street, a lively pedestrian promenade. It doesn't take long on this street to get your first taste of the Tango, one of the principal preoccupations of Argentineans. Street performers introduce the visitor to this distinctive dance form. More elaborate performances are offered in Tango shows performed at numerous venues every night. The other preoccupations of the country are soccer and mate.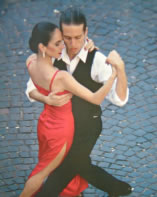 The Tango
Mate is a medicinal and cultural beverage brewed from dried leaves steeped in hot water and served in a gourd based cup. Argentineans can't do without it. For example, on outings (such as the boat to the glaciers) many bring a thermos of hot water to make their mate throughout the day.

DAY 3
A travel day to Iguazu Falls, 2 hours by air northwest of Buenos Aires (17 hours by bus) in a jungle region at the border with Brazil and near Paraguay. The little town of Puerto Igauzu is about 30 minutes from the falls. As was true everywhere we stayed in Argentina, we readily found excellent local restaurants in Iguazu.

DAY 4
Full day (10 hours) at Iguazu Falls, a series of stunning falls that pretty much defy description. It was the first of three Natural World Heritage Sites we would visit on this trip. There are 275 falls in all, some with a vertical drop of 200 feet. Walkways on an upper and lower circuit allow spectacular views at very close proximity.

The single most famous fall is Diablo de Gargantua (Devil's Throat), an exceptionally powerful cascade producing a plume of vapor that can rise hundreds of feet into the air, visible from many miles away. Reached by a separate walkway, an overlook places you practically on top of this roaring inferno.
We capped our excursion to the falls with an exhilarating speed boat excursion in which we approached the base of two of the thunderous falls and then actually proceeded under them (3 times!), drenching all of the delighted passengers.
DAY 5
Travel day via Buenos Aires to Puerto Madryn. We would have liked to visit the Brazilian side of the falls in the morning before our departure but since the US slapped a $100 visa fee and a photo and finger-printing requirement on Brazilians and most foreigners entering the US, Brazil has responded in kind.
DAY 6
Full day tour of Peninsula Valdéz (2 hour drive from Puerto Madryn), our second Natural World Heritage Site. This mostly barren peninsula protects large colonies of elephant seals, sea lions, and Magellanic penguins as well as guanacos (a llama-like animal) and rheas (smaller version of the ostrich). We stopped at an overlook to see a natural shelf supporting a large seal colony. The males were out to sea and the females were teaching their pups how to swim in "kiddie pools" formed by depressions on the rock shelf. It was so windy that Larry had to hold Judi still to take photos. We're guessing the wind gusted to 60-70 mph. Between June and December the areas off the coast serve as an important breeding ground for the enormous and endangered southern right whale.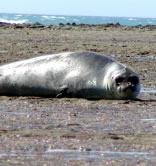 Elephant Seal
DAY 7
Full day excursion to Punto Tombo, home to the largest Magellenic penguin colony in South America. Visitors can walk through the reserve and approach within a few feet of hundreds of nesting penguins. It is a remarkable experience. The reserve is also a protected area for guanacos, Patagonian hares, foxes, armadillos, and various bird species that spend part of the year there. On the way to the airport we stopped in several Welsh communities, having a proper tea and cakes service in Gaimon (a discrepant experience) and visited the small but impressive Paleontology Museum in Trelew.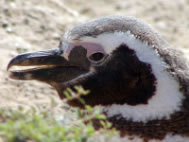 Magellenic Penguin
Evening flight to Ushuaia. Our approach into Ushuaia was spectacular and cemented our interest in booking an excursion on the Beagle Channel.
DAY 8
Ushuaia is the southernmost city in the world. It is located on Tierra del Fuego, an island sliced off the bottom tip of Argentina and Chile by the Strait of Magellan. Ushuaia is the departure point for most of the sturdy vessels that make voyages across the Drake Passage to Antarctica.
The town has a spectacular setting, facing the Beagle Channel. The channel is named after the British ship on which Charles Darwin served as the naturalist for five years, collecting the specimens that would serve as the physical basis for his theory of evolution. The waterway is lined with jagged snow-capped peaks. Additional high ranges rise up behind the town so that it is almost completely encircled by mountains. Many of the buildings, almost all of which have tin roofs, are brightly colored, giving the town a cheery look. Except for the bustling harbor, the alpine-looking town strongly resembles Colorado ski villages like Aspen or Telluride.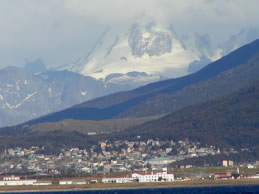 Ushuaia

Morning boat excursion on the Beagle Channel, with photo opportunities about every 10 seconds. Afternoon was spent exploring the town, with a stop at the Yamana Museum which documents the culture of the original (now extinct) indigenous people of the region. It was a member of this tribe that Fitzroy, captain of the Beagle, captured and brought back to England to "civilize." He was eventually returned to his native region and within a week or so shed his English clothes and manners for his native ways. A recent account of this cultural experiment is presented in "Savage: The Life and Times of Jemmy Button" by Nick Hazelwood, St. Martins Press, 2000.
DAY 9
Morning excursion by bus to Tierra del Fuego National Park, about 30 minutes from Ushuaia. The park has no unique features but is scenic with forests and lakes and its hiking trails are very popular. Afternoon flight to El Calafate, a small town on the shore of Lake Argentina with a tree-lined main street. The town owes its existence almost entirely to its proximity to Glaciers National Park.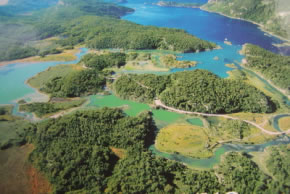 Tierra del Fuego National Park
DAY 10
Full day boat excursion to see three major glaciers: Upsula, Spegazzini, and Onelli. They are staggering sights, as are the blue-tinged icebergs passed en route. The physical dimensions of these giants could not be guessed or comprehended from the portions one sees at their leading edges. Upsula is 37 miles long and 3-4 miles wide! Spegazzini reaches a height of 443 feet (equal to a building of about 40 stories high). The boat docks near Onelli. A walk of a few hundred yards through a forest to a glacial bay culminates in a breathtaking view of Onelli. Seeing these magnificent glaciers has peaked our interest in seeing Alaskan glaciers and visiting Antarctica.

Larry and Judi at Onelli

DAY 11
Full day excursion by land to Perito Moreno, the crown jewel of Glaciers National Park and one of the two top tourist attractions in Argentina (along with Iguazu Falls). All we can say is…wow! You truly have to see it to believe it. Even so, one only sees the forward most portions. Though it is far from the largest or the tallest glacier in the national park, it is commonly regarded as the most picturesque. It is an auditory as well as a visual spectacle. Frequent cracks in its internal structure produce thunderous booms and sections continuously crack and sometimes crash into the lake at its front edge.
On March 14, one week before our visit, a relatively rare event occurred that was reported worldwide. The glacier's growth had created a dam at one end of the lake at its leading edge, blocking the flow of water into Lake Argentina. For several decades, a cycle had occurred regularly every 4 years when the pressure created by the water caused a mighty break in the glacier. However, the March 14 collapse was the first in 16 years and it was apparently an incredible show. The development of a tunnel through the ice several days before made it clear that a break was imminent and an estimated 10,000 people had rushed to the site, some camping out at the overlook for several nights. The much-anticipated moment did not disappoint. The collapse generated a huge wall of water and those lucky enough to witness the event were reportedly amply rewarded for their efforts. While we missed the main event, we did see the gaping opening created by the break and we did see and hear one quite spectacular calving as a double obelisk-shaped column perhaps 10 stories high broke off and crashed into the water. Perito Moreno is most certainly one of the most amazing (and beautiful) natural phenomena we have ever seen.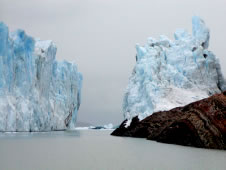 Opening created by a glacial break.
DAY 12
Free day in El Calafate. We happened across a small museum of prehistory and with the assistance of the director arranged an excursion by taxi to a set of caves a few miles out of town where some 4000 year old faded paintings could be seen. The scenery enroute was spectacular, offering continuous views of Lake Argentina with a backdrop of high snow capped mountains. A large eagle perched on a ridge near the caves scrutinized our actions. Evening flight to Buenos Aires.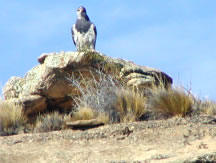 Watched by an Eagle
DAYS 13-14
Free days in Buenos Aires. On our last day, we considered taking a jetfoil to Colonia, a 17th century Portuguese fortress town, said to be quite picturesque, on the coast of Uruguay only 50 minutes away. The entire town has been designated a World Cultural Heritage site by UNESCO. The return time, however, would have made our airport connection a little too tight. So we settled for some sightseeing in Buenos Aires, including a visit to San Telmo, the oldest section of the city. Having lunch in the small central plaza with an accordion player nearby, we could have been in Italy. Late evening departure for San Diego via Miami and Dallas.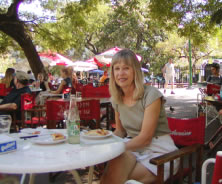 Lunch in the San Telmo section of Buenos Aires.