August 3 - 7, 2005
Gallup, New Mexico lies in the northeastern quadrant of New Mexico, 140 miles west of Albuquerque, less than 20 miles from the Arizona border. It can be reached by a 5 to 6 hour drive from Phoenix or by a 2.5 hour drive from Albuquerque. Gallup's 6,510 ft. altitude generates temperature extremes far more frequently in the winter than in the summer. The town of 20,000 is the commercial hub for the Navajo nation, for the Hopis whose reservation is centered within the Navajo reservation, and it also serves the Zuni tribe whose main pueblo lies about 25 miles to the south. Navajos are perhaps most widely known today for their storied code talkers of WWII. Surviving code talkers have been belatedly honored at the highest levels numerous times in recent years. A bronze memorial in the recently established Gallup Cultural Center also pays tribute to these men.
Gallup is one of those western railroad towns that stretch out in a narrow strip along the tracks for miles -- about 9 or 10 in this case - along Historic Route 66.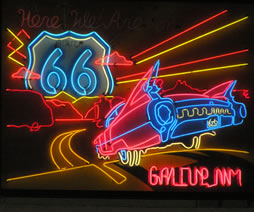 The "Mother Road" as Route 66 is affectionately (and even reverently) known by those old enough to have driven it - at one time ran all the way from Chicago to Los Angeles. One of Gallup's most interesting features is its wealth of classic Route 66 neon signs beckoning tourists and road warriors/truckers to motels and eateries.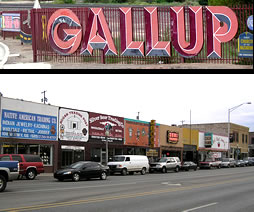 Visiting this exceedingly friendly town is a bit like stepping into the past. It is full of trading posts and gift shops selling native American handicrafts and souvenirs of the West. Some of the trading posts resemble museums, with impressive displays of native art and handicrafts. The most well known are Richardson's and Ortega's.
Many of these establishments deal in pawn loans to their native customers. You can see the pawn vaults in the backs of these stores, crammed with row after row of elaborate turquoise necklaces, bracelets, belts and other high value items. And it is not at all unusual to see a Native American walk in one of these stores with a hand-crafted item to be sold or pawned.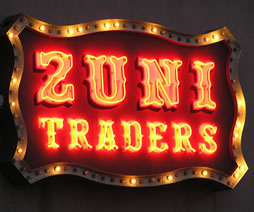 Navajo Nation
The Navajo nation, popularized by the mystery novels of Tony Hillerman, numbers about 300,000, making it the largest U.S. tribe. Their 27,000 square mile reservation occupies a large portion of the Four Corners region of New Mexico, Arizona, and Utah and encompasses some of the most scenic destinations in the U.S., including Monument Valley, Shiprock, and the cliff dwellings of Navajo National Monument. The Navajos are known for their impressive artisans, who produce fine quality jewelry, rugs, pottery, baskets, and carvings.

The Inter-Tribal Indian Ceremonial
The annual August ceremonial is a 5- day affair that began in 1922 and is now in its 84th consecutive year. It is designed to celebrate Native American Heritage and to contribute to the preservation of these cultures. Tribes from a number of U.S. states and Mexico participate in the festivities. A convention center at nearby Red Rocks State Park was the setting for displays of native artwork and handicrafts of exceptional quality. Many had been entered in a competition and ribbons adorned the prize winners in each category. The dramatic Red Rocks Amphitheatre was the site for dance performances and the Main Arena featured a rodeo.
The ornate downtown El Morro Theatre hosted a fashion show and queen contest. Downtown Gallup was also the site of an outdoor Indian market (featuring turquoise jewelry), a day parade, and a dramatic a night parade. Participants from more than 30 tribes from the US and Mexico including Navajo, Apache, Choctaw, Zuni, Hopi, Comanche, Aztec, Totonac, and others took part in the ceremonial events.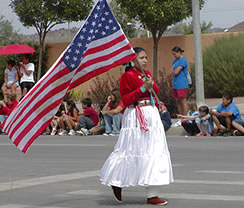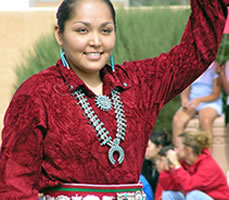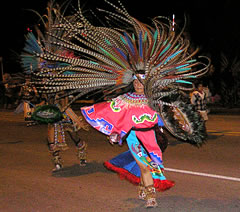 The dance performances concluded with the Dance of the Flyers by a group of Totonac tribe acrobats known as the Bird Men from Vera Cruz, Mexico. These daredevils scaled a 60 foot pole, wrapped a series of ropes around the pole attaching one end to their bodies and then gracefully twirled round the pole in descending circles until they reached the ground, accompanied by a flute played by their leader who remained at the top. It was a most unusual act.
The next Inter-tribal Ceremonial will be held in Gallup, July 26 - 30, 2006. For more information, check this web site next year. www.indianceremonial.com
Dining tip: Earl's Family Restaurant, a local favorite since 1947. Try the Navajo tacos and sopapaillas. In addition to great food, you can shop directly with Indian artisans as they make their way from table to table, selling their goods at fair prices.
En route to/from Phoenix
Motorists can drive through Petrified Forest National Park, about 20 miles east of Holbrook on Interstate 40. The road through the park first loops north of the interstate through the spectacular vistas of the Painted Desert, continues to several pull-offs where 800 to 1000 year old petroglyphs can be seen and ends at the southern visitor center and museum at the Rainbow Forest where the "Giant Logs Trail" leads the visitor to some of the largest and most colorful petrified logs in the park.
Other points of interest
The region is rich in natural attractions. Other outstanding sites in addition to those mentioned are Canyon de Chelly, Chaco Canyon, Hubbell Trading Post, Meteor Crater and Mesa Verde National Park.