While all that may be true, the reality behind all the UFO publicity this small southwestern town has received is that Roswell is really just a nice down to Earth town. As a matter of fact, it was chosen as an All-American City in 1979 and again in 2001!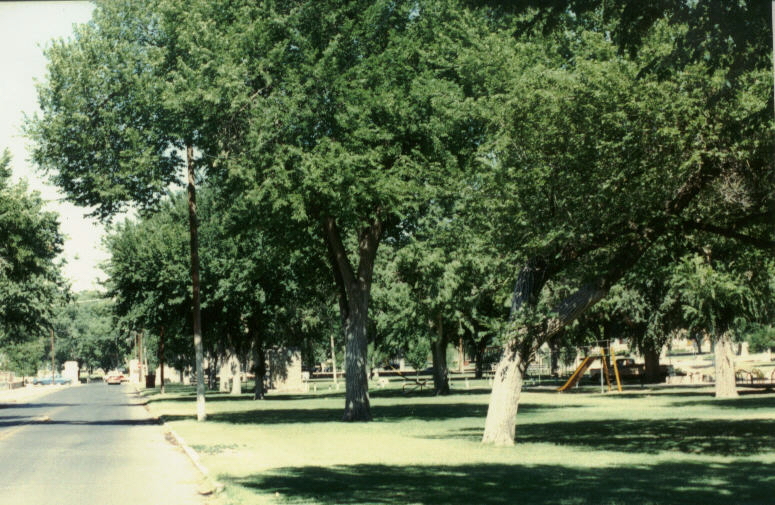 5th Street Looking Toward Union Street

Roswell is located in Chavez County, about 200 miles southeast of Albuquerque, in the Pecos Valley.

Lined with Fine Homes,
Riverside Drive Winds Along Cahoun Park
With a population of around 50,000, it has many elegant homes with well-kept lawns, shaded by big old cottonwood and elm trees. It has wide streets, good schools, good shops, plenty of parking, no traffic congestion, miles of hiking and biking paths and friendly people, who have a real sense of community. Roswell has plenty of sunshine and blue skies with fluffy white clouds. It's mild and dry year around.
Situated on a high plateau at an elevation of 3,565 feet, Roswell is surround by vast expanses of flat terrain that offers an unobstructed view for miles and miles. Looking west, El Capitan Mountain can be seen seventy miles away.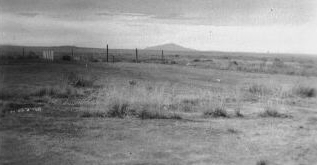 El Capitan Seen From Roswell

Growing up in Roswell was pleasant. I was 12 years old, when the big event happened, but we heard nothing about it around town after that.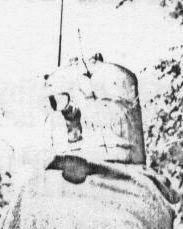 Classified Photo of an Alien
Seen in Roswell in 1947
High School life in Roswell consisted of classes at the old Roswell High School on Richardson Street, Friday night football and basketball games (sports, of course were the big thing for RHS students - and RHS turned out many star atheletes in a variety of sports), the marching band, school dances, homework and our cars. I drove a 1934 Ford Coupe...wish I had it today!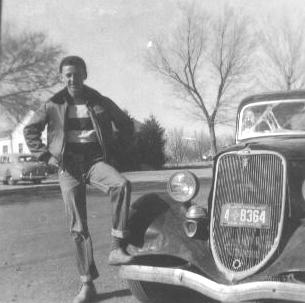 Guess What Year and Make This Car Is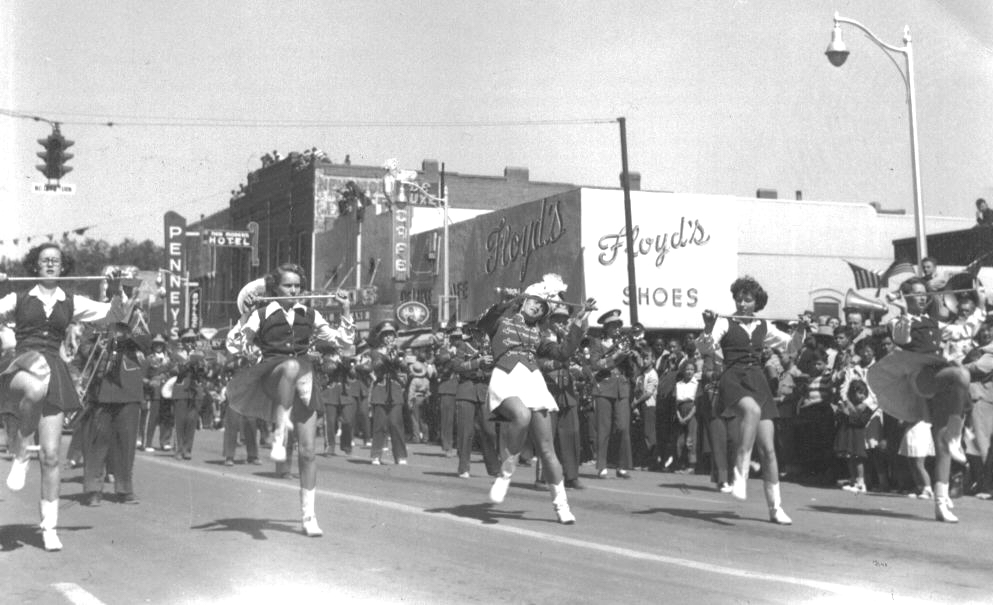 RHS Marching Band Parades Down Main Street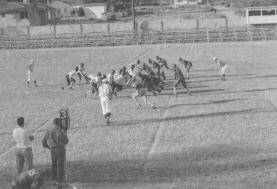 RHS Football Practice 1952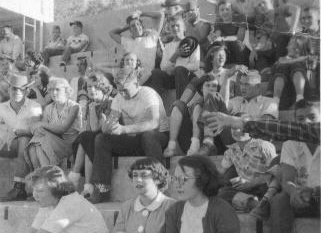 The Fans
Fridays brought Mr. Olsen's musical variety shows in the auditorium. We had a lot of talent in our school. We also had some great teachers, who tried hard to keep our attention in class and to educate us and I think they did a pretty good job.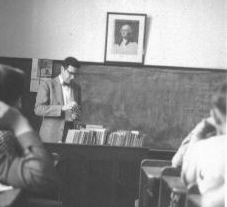 Mr. Olsen and George Washington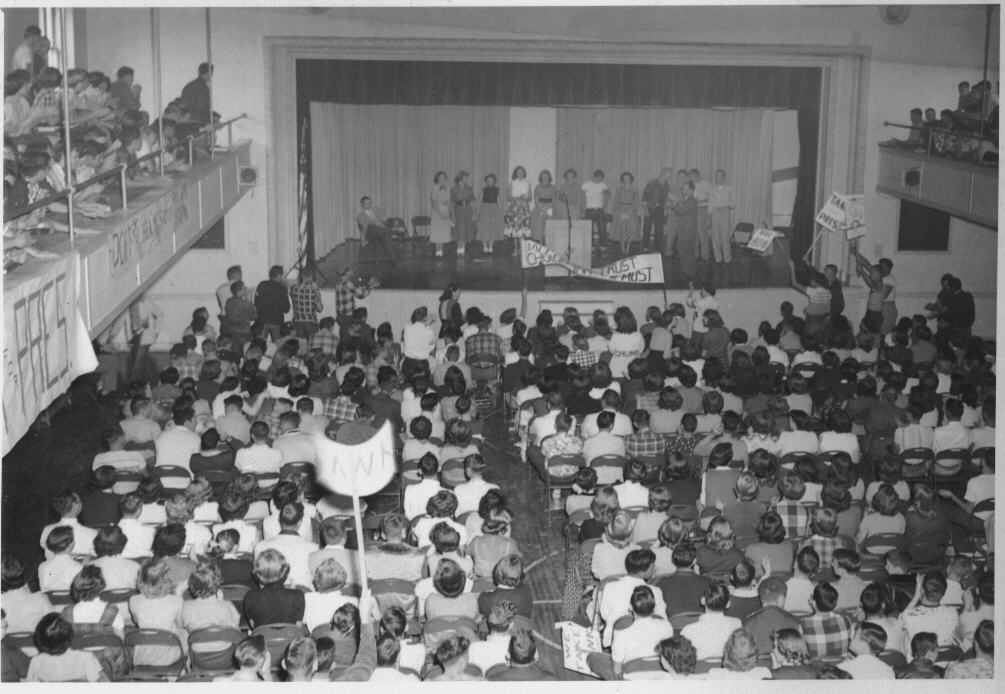 RHS Auditorium 1952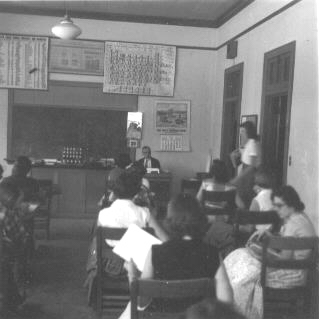 Mr. Carothers' Chemistry Class
I remember RHS as a lively and always bustling place. Everyone knew everyone else and I think we all enjoyed our high school years.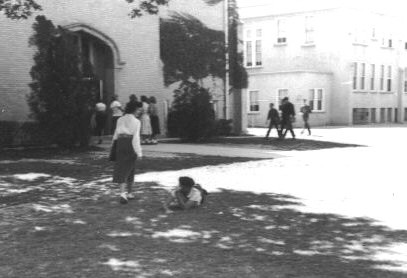 Hi Cornelia!

Summers were hot and dry and lazy days, except for summer jobs. I was an electrician's helper one summer and worked in a shoe store other summers. The best summer jobs, however, were being a life guard at the pool or caddying at the golf course.
It was always fun - on a hot summer day - to drop into Platt's Drugstore on 2nd Street, sit at the fountain and have a double dip ice cream cone - for a dime - or sip on chocolate soda. Sometimes we would stop by Small's Bakery, down the street, and grab some brownies.
I also remember hot summer days, when we were still in Junior High - we would ride our bicycles up to an old service station on West 2nd Street, where we could reach into an ice-filled cooler to pull out an ice cold orange or grape soda pop.
Another favorite hangout for RHS kids was the A&W rootbeer stand, where the parking was haphazard, the hamburgers were huge, the mugs were frosted, and the waitresses wove their way through the cars, somehow remembering which car got what, as they plunked the trays down on car windows.
And I don't want to leave out a mention of the Starlight Drive In, where we would pile our trunk full of friends and 'hide' them, as we drove into the parking lot - thinking we had gotten away with something big. Then everyone would pile out and sit on top of the car's hood or roof and watch a good movie - that didn't even mention sex and violence. Imagine that!
Remember Zink's music store, where three or four kids could cram into a 'listening' booth to listen to LP's or 45's, prior to deciding on a purchase. There was no time limit as to how long you could use that booth and sometimes we would spend an entire Saturday afternoon listening to music.
We all swam at the city pool at Cahoun Park, which was and still is a large, beautiful park with great old trees. The park is bordered by a low rock wall. The pool had a great high dive and many great feats of acrobatic skill were performed off that high dive.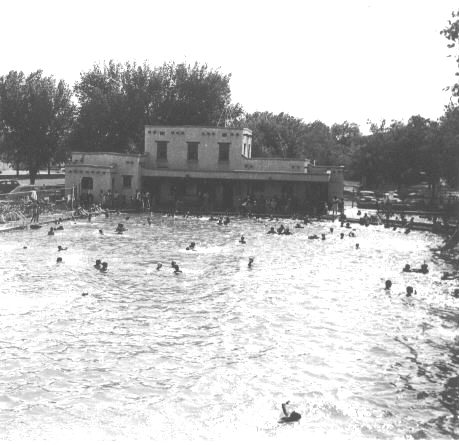 Cahoun Park Pool 1952
View from the High Dive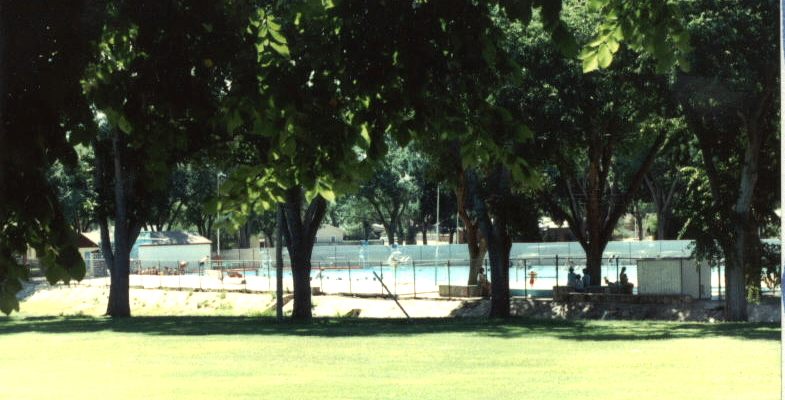 Swimming Pool in Cahoun Park 1989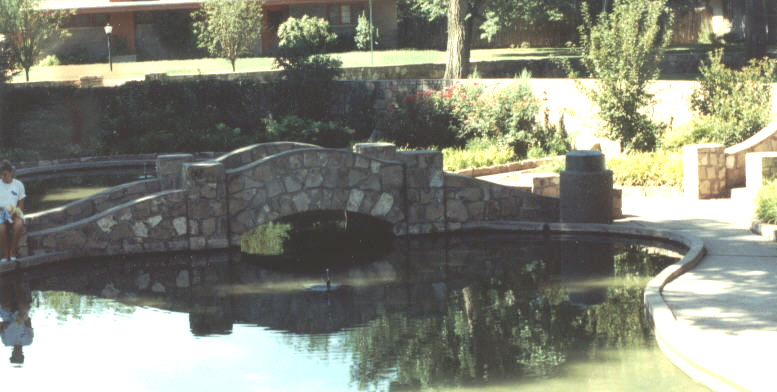 The Sunken Gardens in Cahoun Park,
where Lily Pads thrive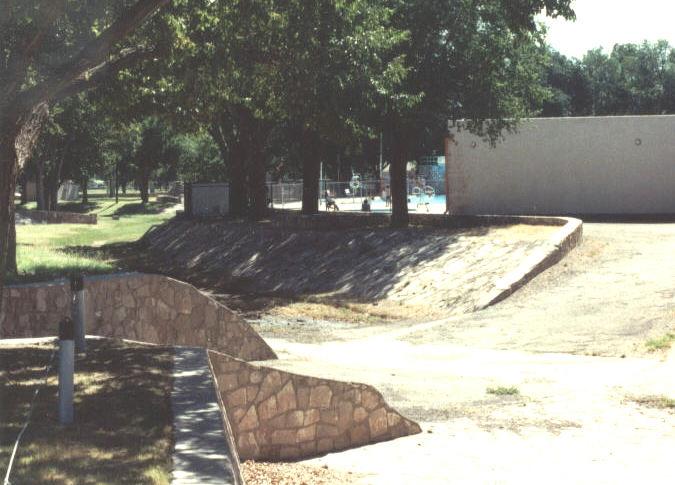 The Dip
The Dip was where the road ran between the golf course and the park and down through the dry Spring River bed and up around the swimming pool. When we were young, kids from my neighborhood always like to hang out there and we rode our bikes down the curving rock wall...that was our excitement in the pre-skate board fifties. When we got cars - in High School, we still liked to cruise through the dip and around the pool - to see who was there.
And there was the golf course, I lived two blocks away. Roswell has always been a big golfing town.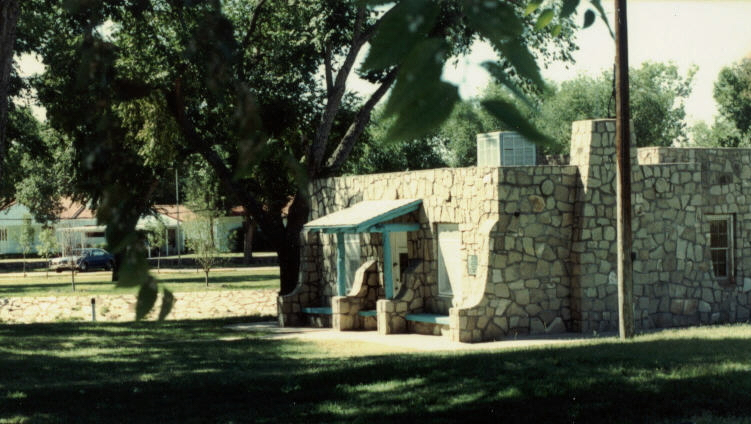 The Old Golf Hut by the Spring River
The Golf Hut sold penny candy, including miniature peanut butter logs that had the brown pinstripes on the candy, instead of on the paper like they do nowadays.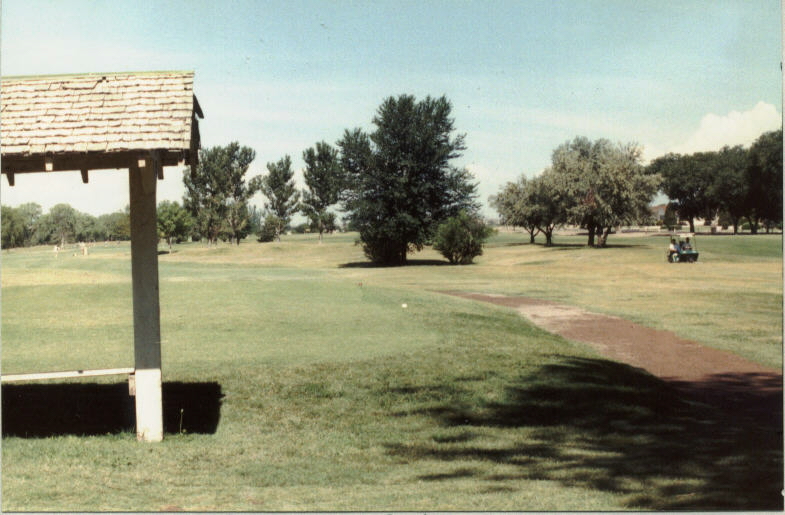 The Roswell City Golf Course
Right across the street from the golf course were the tennis courts - another place in to hang out in the summer in Roswell and have a good time.
When we were in High School, we all went to the coffee shop, at the popular El Rancho Restaurant, on Friday and Saturday nights after dances, dates and school activities.
We, of course, also hung out at Pop's Drive-In and at the Park'N Eat... to have hamburgers, french fries, onion rings and shakes and listen to music on the juke box . We liked to cruise around and around those establishments in our cars and hot rods - to see and be seen.
It was the early fifties - and those were good times for Roswell kids.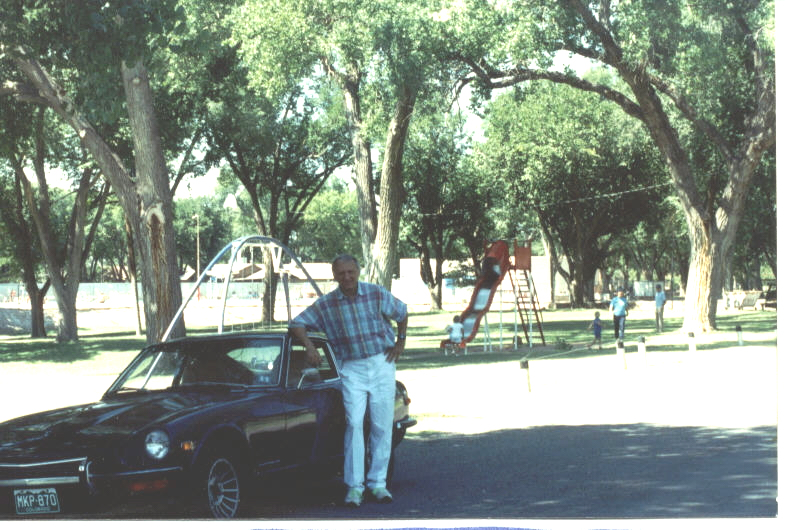 The author- at Cahoun Park
P.S. I still like to cruise around in my car. Some things never change.
Cynthia Fenson Taylor also contributed
memories to this story.
Historical Highlights
_________
Back in the 1860's and 70's, Roswell was a cattle stop for cowboys running herds up the Chisum and Goodnight-Loving trails between Texas and Colorado. Main Street was made extra wide to accommodate those cattle herds coming through town. The town's name comes from one of the town's founders, Van C. Smith, a gambler, who named it after his father, Roswell Smith.
A major milestone in Roswell's history was when the Forth Worth Military University opened a branch in the town. In 1893, the school's name was changed to the New Mexico Military Institute. At one time the school had an internationally famous polo team. The Institute is still in operation and highly respected today.
In addition to cattle and sheep ranching, Roswell became an important agricultural center, when a huge artesian well was discovered in the area in 1891. Cotton, alfalfa, apples, corn, grain and chilis are grown here. Dairy farming has now also become an important part of the economy in Roswell.
Each year Roswell hosts the annual Eastern New Mexico State Fair, where agricultural products and the superb local quarter horses are shown.
The 40's and 50's brought the Roswell Army Flying School, which became Walker Air Force Base in 1948. B-52 Squadrons from the Strategic Air Command were eventually based there.
A thriving industrial park now occupies the space where the base used to be. A branch of Eastern New Mexico University is also located there.

Roswell is also the home of the Roswell Museum and Art Center. The museum's collection includes work by Peter Hurd, Georgia O'Keeffe and other well known southwestern artists, plus the Rogers Aston collection of American Indian and Western Art.
The museum also includes the Robert H. Goodard rocket science exhibit. Goodard, acknowledged as the father of space exploration, who launched the world's first liquid-fluid rocket in 1926, spent 12 years of his life doing rocket development and experiments in Roswell. The exhibit includes an exact replica of his shop.