by Mel Fenson
Following an invitation to exhibit her fine art photography at the annual Spring International Photographic Week held at the Xiang Sha Wan Resort in China, Maureen Burkhart journeyed there in January 2011. The show was sponsored by Chinese Photographer Magazine of Beijing. Maureen had received the invitation during a juried fine art photography portfolio review last October in Atlanta, when she presented her work to two Chinese reviewers - Ms. Yan Li of High Noon Art & Culture Corp. of Beijing and Cai Huangsong of Photo China.
After seeing her work, the Chinese reviewers had expressed interest in publishing some of Maureen's photographic collection, which was entitled, "Diptychs of Nature" in Chinese Photographer Magazine. Within a week, an invitation to visit China to participate in the magazine's Spring International Photographic Week followed via email. She was one of about a dozen U.S. photographers, who were invited to show their work at the exhibition.
"The Chinese representatives," Maureen explained, "were looking for talent and work that fit into an open interpretation of the exhibition's 'Landscape' theme." They offered to pay her trip expenses to Xiang Sha Wan, in Inner Mongolia, China, where the event was held. Located in northern China, just south of Mongolia, the Xiang Sha Wan Resort area is in the Gobi Desert. It is known as the "Land of Singing Sands," and for its Bactrian camels.
Maureen had previously traveled to China for a United Nations Conference on Women, held in Beijing in 1995.
Maureen's trip began from Denver on December 27, 2010. She flew to L.A., then to Beijing. "Then I flew 1.5 hrs. to Baotou, a large city in Inner Mongolia. From there, we were picked up by our host and driven by bus for 1.5 hours to the city of Erdos. It was another 30-minutes by bus to the resort area of Xiang Sha Wan, where we checked into our rooms. At that point, we had arrived in the sand dunes, having taken the last paved road to get there. We then piled into a couple of jeeps and were driven over the sand dunes to the giant Desert Art Palace, which was housed in the world's largest yurt (a tent100 meters wide by 30 meters high). Once in the yurt, we were provided with a pile of white cotton glove and assigned three Mongolian camel herders, who were to help us mat and frame our prints."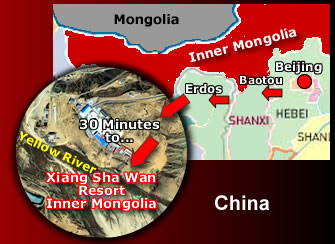 "What I didn't expect" Maureen recalled, "was that the yurt would not be heated and its inside temperature would be freezing. That made it tough to handle the framing of my 20 prints, but I finally succeeded by nightfall." A side note Maureen added was that, "During this tedious process the American photography contingent forged a mighty friendship!"
The Spring International Photography Week was a weeklong event and more than 250 photographers came from all over China. The highlight of the week was a special exhibit, which featured the work of about 20 Chinese photographers and 10 Americans.
Highlights of the event, Maureen said, "were opening and closing ceremonies, feasts of traditional Mongolian gastronomic delights, lectures, a trip to a Buddhist monastery and nearby Erdos City, and photo ops with camels trekking through the sand dunes." And, she added, "I was interviewed on Chinese television - with the help of interpreters." Another event held, during the photographic exhibition, was the International Miss Mongolia competition, and Maureen commented, "the contestants were more than happy to model for the photographers.
Visit Maureen's website and blog at:

www.MaureenRuddyBurkhart.com

www.mophotoartist.blogspot.com