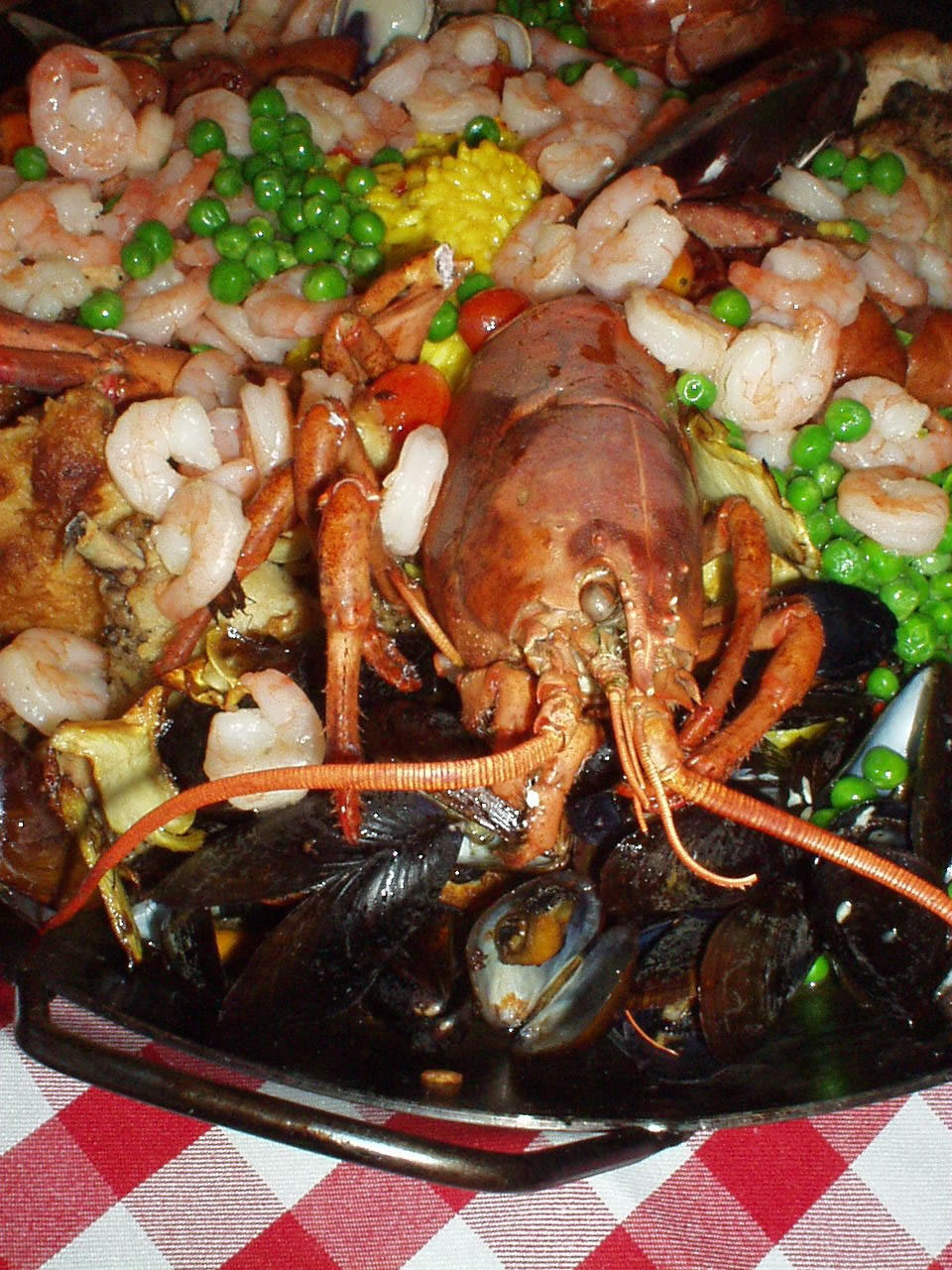 Chef, Howard Treppeda
tells Colorado Magazine Online's
Food Editor, Joseph G. Boches,
how he prepares this popular Spanish dish.


An expert in creating exotic dishes from around the world, Howard Treppeda recently prepared a Spanish Paella, which we were fortunate enough to sample, and he graciously provided us with his recipe.

He prepares this dish for special catering events or
in-store specials in his Niwot, Colorado market and cafe.

PAELLA FOR A PARTY
1 ea onion med dice ½"
1 ea green pepper "
1 ea red pepper "
1 # chorizo, sliced, 1"
1 # chicken breast diced, 1"
2 oz olive oil
Saute chorizo until lightly browned, add vegetables and sauté until softened, add diced chicken, sauté until cooked lightly, season with salt and pepper and reserve.
2 # rice, (Arborio is traditional, long grain ok) Stir, saute until rice glazes, i.e., changes color and acquires a translucent appearance. Add ingredients below;
½ tsp saffron, a pinch
4 ea bay leaves
2 tbsp garlic,chopped
2 oz chicken base or
bouillon cubes
2 qts water or chicken stock
black pepper & salt, to taste
Bring to boil, season with a little black pepper, cover rice, cook until done, about 20 minutes. At service, combine with sautéed chicken and vegetables and heat through.
TO SERVE:
1 lb calamari, cleaned tubes
and tentacles
1 lb clams, small, fresh
or littleneck
1 lb mussels, cleaned,
de-bearded
2 cups white wine or stock
2 oz olive oil
1 tsp garlic
1 lb shrimp
4 ea tomatoes, diced ½"
½ cup olives, pitted Calamata or green, sliced
2 tbsp parsley, chopped, fresh
lemon wedges
Saute calimari in olive oil until translucent white in color. Add clams, mussels and wine or stock. Cover and steam until shells open. Add garlic, shrimp, tomatoes, olives and heat through.
Serve hot rice in center of large paella pan or suitable platter or bowl; surround with shellfish, distributing evenly. Garnish with chopped parsley, lemons

Yield: about 25 servings
© 2002, JGBoches,
Consulting à la Carte Inc.

.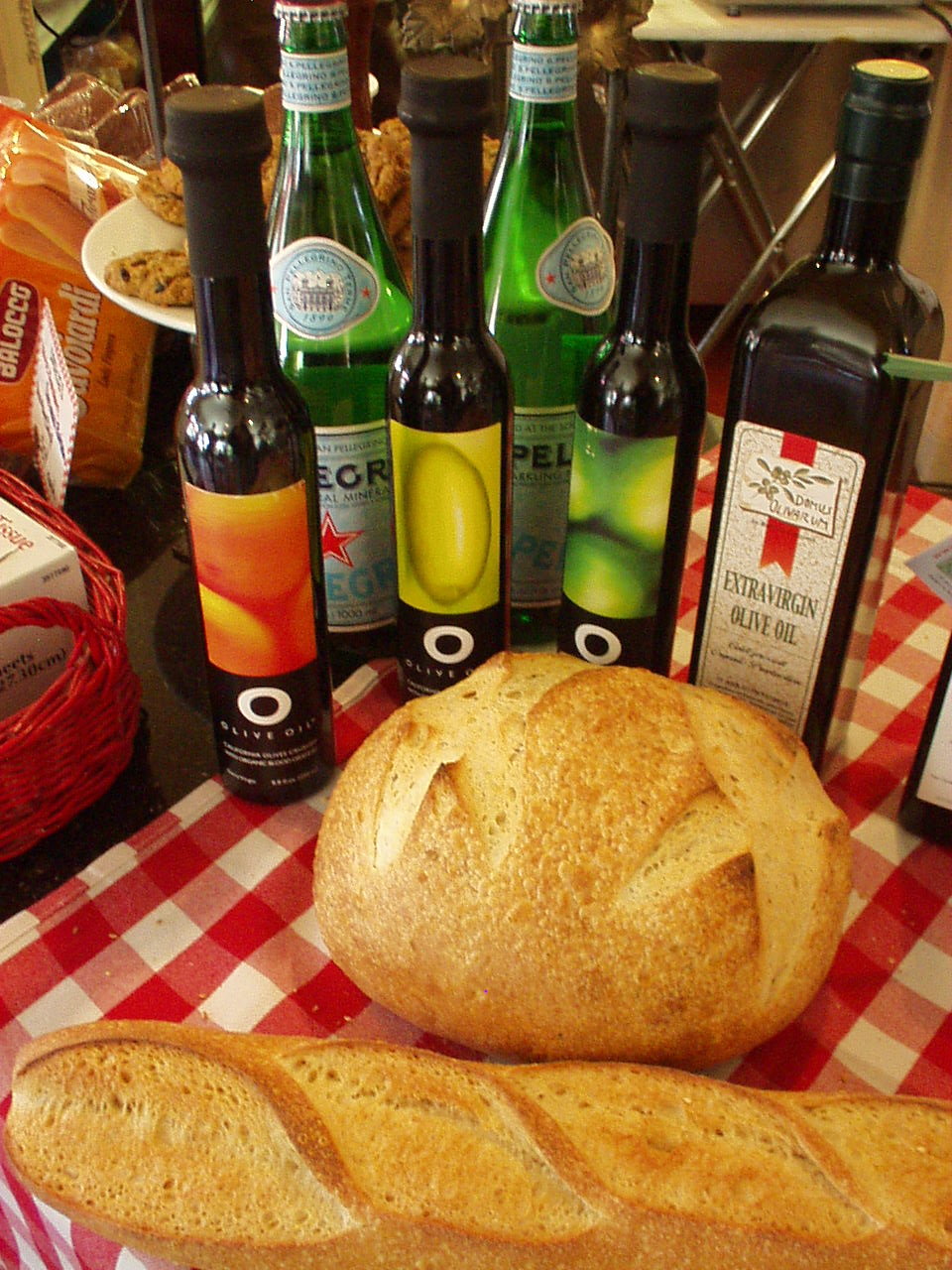 Left: Proprietor, Howard Treppeda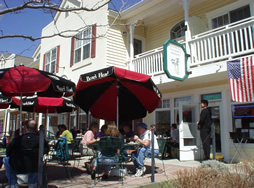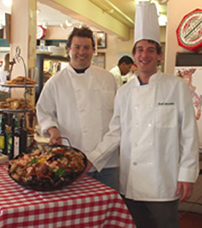 About Treppeda's

New York without (most) of the attitude….meats for most sandwiches are sliced to order and the line goes out the door about 11:46 am Mountain Standard Time. Service is quick and efficient, beer and wine are served, and the sandwiches are huge, with better than New York prices.
Howard Treppeda, a New York émigré from the Hudson Valley, has lived in the Boulder neighborhood for decades, moving west to Ski Colorado, first working in class kitchens as chef garde manger (cold foods), later importing specialty food products, and finally working his much lauded deli as a specialty niche in Niwot, a sleepy bedroom community fighting for identity with its pioneer natives.
Howard's a relaxed kind of guy and his store hours reflect his commitment to family, opening around 10 am, closing around
six pm.

His best sellers include the New York Chicken Cutlet sandwich ($6.75), a third of a pound of boneless, skinless, breast lightly breaded with fresh "artisan" breadcrumbs mixed with parsley and seasonings, then pan fried in a special olive oil-canola oil blend! "Healthier that way," says Treppeda, "mono-unsaturated fat eats up the bad cholesterol…" Served on a fresh focaccia roll, with mayo, lettuce and tomato, your kid would love this. (Howard buys the best tomatoes available, subject to market, be they vine ripened, pungent Romas or sweet grape tomatoes for his fresh mozzarella tomato salad.)
My personal choice is the menu leading Sicilian. Spicy hot, yet sweet capacola, authentic Genoa and dry salamis, a sopressata Calabrese (you'll want a pound to take home), housemade olive pesto (Calamata and green) with drizzed balsamic vinaigrette, fresh lettuce and tomato. On fresh focaccia or a baguette, a steal at $6.75.

Sandwiches are served with chips or mixed greens, and a tempting array of side salads is available for a slight charge.
Hot foods include a traditional lasagna, prepared daily with fresh New York ricotta, sweet Italian sausage (a pinch of fennel for those of you from Rio Linda) in a fresh ragu Bologonese ($6.95, 2 sides and bread). Always 2 daily soups, (2.95/$3.50) that run a range from Italian Wedding Soup with small chicken-Parmesan quenelles to a New England Clam Chowder loaded with sweet New Jersey Sea Clams, and lots of others. Vegan Roasted Butternut Squash is an autumn thriller, and soups and sauces are stocked in a small freezer for takeout. ($6.99 qt, serves 4+ cheap) The deli has a great selection of imported olives, cheeses, and fresh salads too numerous to describe. Spread on the Roasted Red Pepper Hummus for a great veggie bite.
Desserts are best with a cup of …espresso, cappuccino, macchiato…the espresso machine is always on.

A grandmotherly Torta della Nonna, apple tart, is delicious and other desserts rotate, including noteworthy cheesecake.

For busy socializing time, graduation, holiday weekends, Howard will usually offer stuffed to order Cannoli and even better, premises baked Sfogliatelle, the delicious Italian puff pastry with a lightly sweetened ricotta filling, Outstanding!
The locals buy for their corporate businesses, box lunches and fancier catering when the deal making goes on. The best entice him to their homes for custom catering, holiday parties, bar mitzvahs, weddings…fresh Italian truffles, caviar, things not on the regular menus. Just ask.

Don't come too late, he's picking up the kids. ...JGB