Steaming, spicy, and tasty... a wide variety of exotic Thai dishes emerge from the woks of ...
Tim's Thai
Restaurant, a small, but excellent establishment, tucked away at 2939 17th Ave., between Hover Avenue and Airport Road in Longmont, Colorado.

The restaurant is operated by co-owners and chefs, Tim Mc Laughlin and Paul Hart. Both bring a wide variety cooking experience to their kitchen. Paul is a graduate of the Culinary Institute of America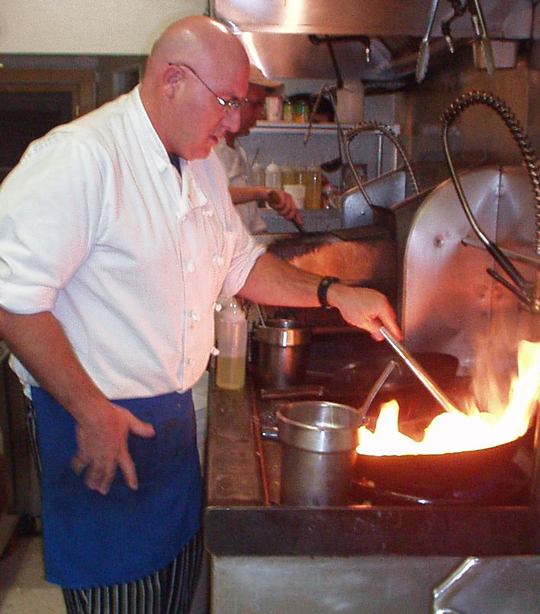 Tim McLaughlin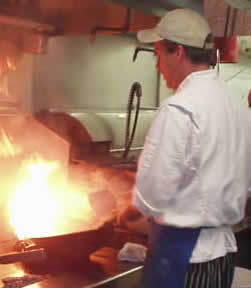 Paul Hart

Tim's Thai turns out a wide variety of Thai cookery, which includes traditional Thai favorites, such as: Padt Thai, prepared with wok seared rice noodles with lime juice, soy, sugar, egg, green onion, bean sprouts, and peanuts; Wok Seared Garlic Chicken; Stir Fried Ginger Pork; and Thai Stir Fried Rice Noodles with Hot Basil - which is cooked with wok seared rice noodles with lime juice, soy, sugar, egg, green onion,bean sprouts, and peanuts.
Other intriguing items on the menu are red, green and yellow curry bowls - each with special taste-tantalizing ingredients. The Red Curry bowl is cooked with cooked with coconut milk, straw mushrooms, baby corn, red bell pepper and Thai Basil. The Green Curry Bowl comes with cooked with lime leaves, coconut milk, cilantro, potato and grilled eggplant. The Yellow Curry Bowl is wok-stirred with cilantro, mint, onion, coconut milk, sweet potato, and peanuts - all Southeastern Asian delights.
Each dish comes with a choice of with beef, chicken, tofu, or pork - at $9.50 or shrimp, mussels, scallops, or squid at $11.50.
Tim's Thai always give patrons a choice of dishes served mild, medium, hot or with Tim's special Thai Hot seasoning.
A wide selection of interesting appetizers includes items, such as: Crisp Fried Tofu served with a Thai coconut peanut sauce - for $5.50; a House Sampler which has satay-pork, spring roll-chicken and patties-squid for $7.50; and Chili & Lime Steamed Green Lip Mussels at $7.50.
Specials offer items, such as: Shrimp or Fresh Blue Crab Spring Rolls and Char-Grilled Yellow Fin Tuna.
And Tim's Thai offers Paul's refreshing homemade ice cream in a variety of flavors which include coconut and pumpkin spice.
A selection of beer and wine is also available and Left Hand Brewing Company's Sawtooth Draft and Ju Ju Ginger are available on tap.
Tim's Thai also provides catering services which offer many styles of cooking including Caribbean, Seafood, French, Italian, American and Barbeque as well as Thai.
Tim's Thai serves dinners only and is open Tuesday thru Saturday from 5:00 p.m. til 9:00 p.m. Reservations are not accepted. The telephone number is
303-772-8680. More information is available on the restaurant's website at www.timsthai.com