Q's Restaurant in The Hotel Boulderado
by Joseph G. Boches


Consulting Chef &
Colorado Magazine Online
Food Editor
Q's hotel restaurant is different. Most hotel restaurants attract a captive audience because of convenience, but Q's is worth a trip.
Our recent experiences have been delightful: classy, tasty food, good combinations, gorgeous but casual presentations, reasonably priced.

In a hurry at lunch? Pictured here, three courses "served promptly."
Really, truly Lobster Sweet Potato Bisque made from lobster bodies, no hint of base, and just enough sweet potato to bind and lighten with a pretty swirl of crème fraiche. Delicate rock shrimp fritters floated on top. Outstanding!
A nice light, perhaps 4 oz portion of perfectly grilled Blackened Salmon, skillfully caramelized and "bronzed" rather than burnt, coddled with just enough fresh Parsley Black Pepper Fettucini Alfredo. The pasta was tossed lightly with straight imported Parmesan cheese and fresh cream. On the side a fresh salad garnish with today's sweet corn. ($15)

Don't resist the dessert, Raspberry Mascarpone Roulade, a delicate, sweetened sponge wrapping a bit of mascarpone mousse, raspberries that have taste, and the tiniest scoop of mascarpone ice cream. You could share, or just dip the almond cookie in a bit of the ice cream.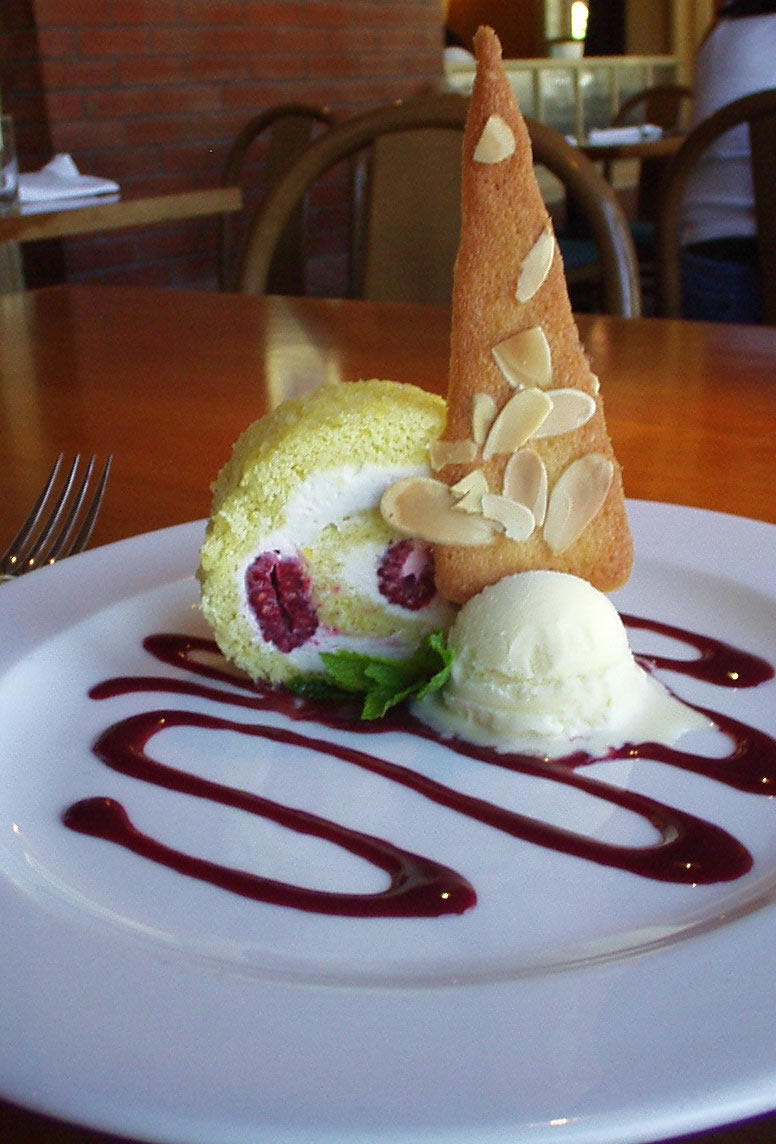 I had to have the falafel (called Chick Pea Fritters) with properly cooked Cous Cous and tangy Tomato Chutney, plus drizzled low fat yogurt to moisten lightly. ($11) You'll find a lot of dinner preparations lightened up for lunch, and this is one ($16 at night with Spicy Sweet Potatoes.)
For another dinner, we tried Grilled Ahi Tuna, Lemon Risotto, Sweet Peppers. Fennel, White Anchovies and Calamata Olives,($23) Seared and carved with a cool center, fine for me, but give warning anywhere today if you want more temperature. The risotto was a creamy arborio, delicate lemon flavor and just the slightest bite. And just for the hell of it, a small taste of tartare, so there's no doubt how fresh the fish is.

For an anniversary dinner, at the host's suggestion, I surprised my wife with the evening Tasting Menu ($50, five courses, Chef's Choice, complimentary wines for $30 additional). We're both in the food business and dissect menus without thinking, choosing more what we think the kitchen can prepare well, rather than what we'd like to try. This was painless, fun, and we were delighted, focused on each other rather than engaging our waiter. The wine selections were superb and appropriate to each course.

Q's Restaurant 303-440-0844, 2115 13th Street, in the Hotel Boulderado, Boulder, CO.
Check out the website www.Qsboulder.com, Mobil Travel Guide ****, well rated in Zagat.
Don't forget The Corner Bar; a sunny venue on the southeast corner with an All Day Menu that will take care of whatever you want, anytime you want, nicely, nicely.