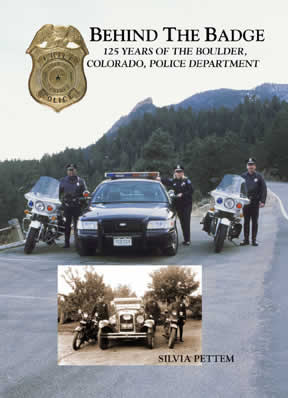 Colorado Magazine Online welcomes longtime Boulder historian, Silvia Pettem as its new Historical Columnist.
Her interesting articles about local history will be regular features in this publication.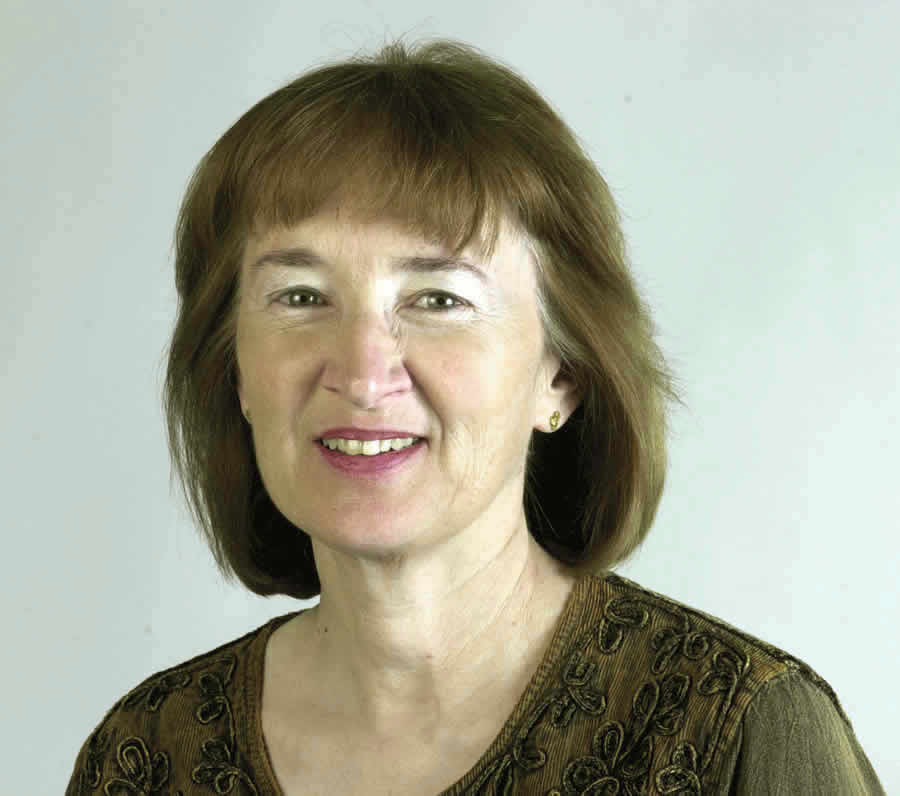 Silvia Pettem
arrived from Pennsylvania to attend the University of Colorado,
in 1965. After graduation, she decided to make Boulder County her home.

Her interest in local history began during the 1970s when she first moved to the mountains west of Boulder.

When the Boulder Police Department entered
its years of turmoil and strife, Pettem was exploring the county's rich mining
heritage.
Her first book, Red Rocks to Riches: Gold Mining in Boulder County Then and Now was published in 1980.
Since then, Pettem has raised two daughters, owned an out-of-print book business, started a small publishing firm, and has continued to write books on
local history.
Pettem also writes a weekly history column for the Boulder "Daily Camera." In addition, she serves on the boards of the University of Colorado
Heritage Center and the Mining History Association. Pettem is a past board member of the Boulder Museum of History, University of Colorado Alumni
Association, and Historic Boulder, Inc.

While researching and writing "Behind the Badge," Pettem enjoyed plowing
through old police blotters and digging through dusty newspapers to find out
what really went on at the Boulder Police Department.
She and her husband, Ed
Raines, live in the mountains above Jamestown with their
two cats.

This is an excerpt from Silvia Pettem's new book,
Behind the Badge: 125 Years of the
Boulder Police Department,
which was recently released. ©2003
Behind the Badge offers a new
perspective on Boulder's past.
You can read more about the book by visiting
www.thebooklode.com
After the flood of 1894 washed away several of Boulder's brothels, Marietta Kingsley and her "girls," like others in their line of business,
simply set up a new business establishment
in rented rooms downtown.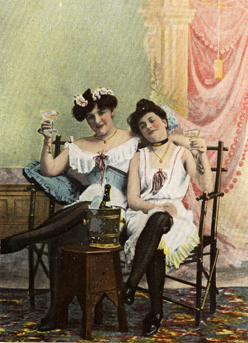 Members of Boulder's onetime social services
organization sip champagne. (Old Postcard Photo)

Meanwhile, the social reformers (many of them women) continued to work to clean up their town. Their slow-but-steady progress got an unexpected boost from one of their own when a "respectable" Boulder woman murdered one of Kingsley's prostitutes, a girl named Trixie Lee.

As the story unfolded, a resident named Fred Hawkes entered his Boulder home on a hot August night. According to the Camera, he was said to have shamefully abused his wife and mother-in-law. The noise woke Fred's brother-in-law who told him to find some other place to "raise a rumpus." Fred then "tanked up and shortly found his way among the rapid women of Railroad Street."

Meanwhile, Maud Hawkes, Fred's wife, had secured a room in the Boulder House, a frame hotel which stood on the northeast corner of 11th and Pearl streets. While Maud sat on the front porch, Trixie Lee and Fred Hawkes drove by in a carriage, flaunting their affair. Trixie Lee was said to have given Maud "an insulting look and yell."

The Camera was of the opinion that the husband and the prostitute "were drunk and made a very bad show of themselves upon the streets." Maud then armed herself and told the hotel proprietor that she was going to kill someone. Several people tried to talk her out of it, advising her that she shouldn't dirty her hands, and that the courts would be on her side. Maud turned a deaf ear to those who offered to help her. Supposedly, she sat in the hotel lobby and read a book. Then she told the hotel proprietor of her troubles and said they were so great she couldn't even cry over them. She also spoke of the neglect and beatings by her husband and said a stone "was pressing coldly against her heart." The hotel proprietor took Maud seriously and notified Officer Ed Knapp that she was armed and suggested he keep an eye on her.

At seven o'clock that evening, while editor L.C. Paddock stood in front of a Pearl Street store, Maud and her mother walked by. Paddock overheard Maud's mother say, "You go and get your gun loaded and give her all that's in it." Maud was said to have replied, "I'll do it. You don't have to tell me." A few moments later, Maud and her mother walked down 11th Street and confronted Trixie Lee and Fred Hawkes. Instantly, Maud started firing. A flash of five shots in rapid succession was seen from the steps of the Camera office.

The slain "member of the demimonde," also identified as one of madam Kingsley's girls, fell into a clump of high weeds behind Metcalf and Hocking's Meat Market. Trixie Lee's slight body "shook with the tremor of death while blood oozed from several gaping wounds in the body." A bystander drew Fred Hawkes back into the weeds where they hid until Maud walked away.

After the shooting, Maud and her mother continued to walk unrestrained along 11th Street. Maud admitted to the gathering crowd, "There she is down there. She's got five bullets in her."

As the two women reached the corner of Pearl Street, Maud's mother stated, "Just hold onto that gun. Don't give it up, but go and get it loaded for the other one."

Just then, someone rushed up to the crowd and said that Trixie Lee was still alive. Maud instantly jumped forward and said, "Alive is she! Well, I've got some more balls for her." At that point, Marshal Metcalf (who may have witnessed the shooting) decided it was time to interfere and grabbed the revolver from her hand.

According to the newspaper reports, Trixie Lee "breathed but a few minutes when death came." When Officer Knapp arrived at the scene, he escorted Maud and her mother to jail pending an inquest.
Editor Paddock deemed the errant husband's affair with Trixie Lee an "outrageous escapade" and called Maud Hawkes an "offended wife." The next day's headline read, "Maud Hawkes was jealous; And she armed herself and slew her husband's paramour."

Two months later, Paddock declared, "Mrs. Hawkes goes free." Once her trial had started, the jury quickly arrived at the verdict of "not guilty," even though there were dozens of witnesses and Maud had admitted that the murder was premeditated.

After the trial, Paddock wrote of both Maud and her mother, "They had been freed from all blame for the taking of that little human life, and the world had again been admonished by an American jury that the life of a scarlet woman weighs nothing in the balance as against the avenging right of a woman wronged."
...