by Mel Fenson

Old-fashioned, small town life still thrives in Berthoud, Colorado, where on a Saturday afternoon, members of a corvette club pull in and line up their cars at the local A&W Root Beer drive-in. It looks like a scene from American Graffitti. Kids and their parents also show up there - to indulge in hot dogs, fries and cold root beers after Saturday sports.
Located in Northern Colorado's Larimer County, Berthoud is now largely a bedroom community. Although many of its citizens commute to jobs in nearby Denver, Boulder, Longmont, Loveland, Ft. Collins and other neighboring towns, people like living there because of its friendly, small town environment.
New urban housing developments have sprung up to the west of town, but Berthoud's old town center is filled with many beautiful and well-landscaped turn-of-the century homes, towered by beautiful old shade trees.
A number of interesting old structures - remnants of its farming and railroad origins, including it's old railroad station, still remain visible around the town. And reminders of Berthoud's history live on through exhibits in its Little Thompson Valley Pioneer Museum, and appear on several large murals painted on the sides of downtown buildings.
A mural painted by Susan K. Daley in 1999 commemorates an epic automobile journey that two Berthoud boys, Floyd and Elmer Clymer, ages 14 and 11 took in June of 1919, when they drove a Reo from Denver to Spokane, Washington Floyd Clymer (1895-1970) had begun selling Reo automobiles in Berthoud in 1906, when he was only eleven-years-old. He later established a publishing empire, based on car magazines and manuals.
A large, eye-catching mural painted on the old grain elevator, depicts a colorful scene from Berthoud's farming past. Nicknamed the "Garden Spot of Colorado, Berthoud is still surrounded by farm land.
One of the unique exhibits of the Pioneer museum is its Bunyan Observatory, which is a replica of the astronomical observatory that Berthoud banker John Bunyan, who was president of the Berthoud National Bank from 1912 to 1948, built in his backyard in 1933. It houses Bunyan's restored Brashear 6-inch telescope. The roof opens to allow visitors to view the heavens thorough the telescope on the first Friday of every month.
The Museum also has many other interesting exhibits that reveal Berthoud's history, including farm equipment, vintage toys, a turn-of-the-century photographer's studio, military paraphernalia, and items from an early 1900's doctor's office.
Another building on the museum grounds is the restored Meadow Hollow School that once sat in a valley west of Berthoud. Complete with a pot-belled stove, it brings back to life what the original one-room schoolhouse was like.
The historic McCarty-Fickel home, built in 1916 by Dr. and Mrs. D.W. McCarty, is now a museum that depicts the lifestyle of the period.
Berthoud's history dates back to the 1860's, when the first white settlers arrived in the area, following the Colorado Gold Rush. Many of the early settlers, who filed homestead claims couldn't survive there and left the valley. Some, however, held out to ranch and farm the arid prairie that straddled the river bottom there.
In 1877, the Colorado Central Railroad laid tracks to cross Little Thompson creek. The company built a house for its section crew and a derailed boxcar served as a makeshift depot. The tiny settlement became known as Little Thompson. It was later renamed Berthoud in honor of Capt. Edward L. Berthoud, a Swiss-born engineer, who engineered an extension of the Colorado Central Railroad route from Longmont to Cheyenne and also surveyed Berthoud Pass on the Continental Divide west of Denver.

Over the next few years the Berthoud settlement grew to include a handful of homes, a blacksmith shop, a mercantile store, a small grain elevator, and a log cabin that served as school and church for the community.
In the early 1880s, the Colorado Central Railroad recognized that Berthoud's location on the river bottom caused their steam-powered locomotives to labor excessively to ascend the grade out of the valley. During the winter of 1883-84, the buildings of the town were loaded on skids and pulled by teams of draft animals to the Berthoud's present-day location on the bluff, one mile north of the river.
Agriculture in the Berthoud area flourished, when farmers diverted water from the Little and Big Thompson Rivers into a network of reservoirs and ditches to irrigate their arid farm land. The harvests of alfalfa, wheat, corn, and barley that followed were sold on the open market or used to fatten sheep and cattle. The town grew as enterprising merchants and shopkeepers set up new businesses to serve the needs farmers and ranchers from the surrounding countryside.
Abundant wheat harvests in the Little Thompson Valley attracted the interest of Denver businessman J.K. Mullen of the Colorado Milling & Elevator Company, who built a grain elevator in Berthoud in the fall of 1885. Two years later, it was purchased by the Berthoud Farmers Milling & Elevator Company, which set up a flour mill that produced Crown Patent, Farmers Pride, Extra Fancy and Blue Ribbon brand flours. The mill operated from the 1880s to the 1940s. The facility was razed in 1966, after it was declared a fire hazard.
In the early 1900s, the Great Western Sugar Company introduced sugar beets to Northern Colorado and built railroads and factories to develop the industry. Berthoud growers delivered beets to several rural dumping stations where the beets were loaded into boxcars and hauled to sugar factories in nearby Loveland and Longmont.
In 1886, the Welch Addition doubled the size of the Berthoud as its town boundaries extended south beyond present-day Mountain Avenue. In 1887, a hose company was formed to protect the town from fire, after the Davis & Hartford Mercantile store burned to the ground. In 1888, a town board was elected and within a short time a Marshall was hired to keep the peace and light the town's gas street lamps. By the early 1900s, Berthoud had a thriving business district operating on Third Street, Massachusetts and Mountain Avenue, which still comprise the center of Berthoud's business district.
Today with nearly 10,000 residents in the town and nearby areas, Berthoud's active small town life continues to attract new residents.
Berthoud celebrates many community events, among which, are its annual community parade on Berthoud Day, that occurs in early June. The parade ends in Berthoud Park, where families gather and enjoy music and picnicking. Another community event held annually in June is the Berthoud Outdoor Quilt Show, during which time local quilters display their works in Fickel Park. During the summer, a farmers' market, sponsored by the town's main street organization is held every Thursday.
Berthoud has a lively small arts community that includes the Berthoud Dance Company, the Berthoud Arts and Humanities Alliance and the Wildfire Community Arts Center that has produced several full-length plays as well as some youth productions.
Students from the Berthoud area attend four public schools, which are part of the Thompson School District. A Higher education center is planned for the area, when Aims Community College, which has purchased land in Berthoud, builds a future regional campus east of Interstate 25 on County Road 44, which is an extenion of Mountain Avenue.
Berthoud's economy was impacted in 2007, when Highway 287 was re-routed west of Berthoud to head north. The new highway bypassed Berthoud and eliminated traffic from Mountain Avenue and the town's business district. Mountain Avenue had been part of U.S. Route 287, which conected with Loveland and Ft. Collins to north and Longmont to the south, since the 1920s.
In spite of the loss of this through traffic, many of Berthoud's small businesses have managed to survive and the town continues attract new people, who like its central location and small town ambience.
For more information, visit:
www.berthoudhistoricalsociety.org/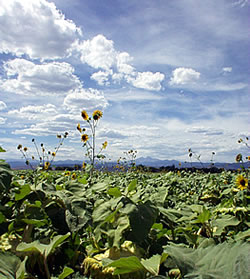 Field of Sunflowers in Berthoud, backdropped by Twin Peaks.