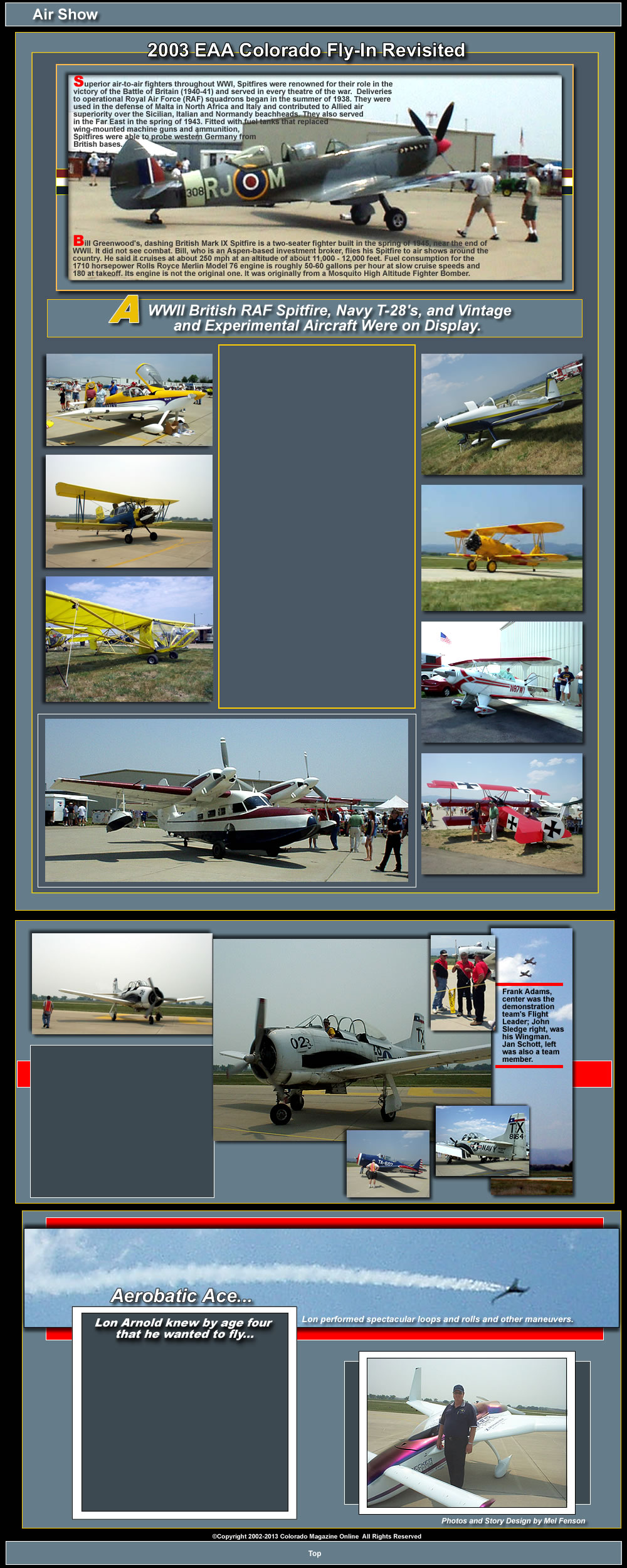 and took his first flight at the age of 12, while working on his Boy Scout Aviation merit badge. He then gained flight experience as a Civil Air Patrol Cadet. He flew his first solo flight two weeks after his 16th birthday. He now performs breath-taking, high-speed solo aerobatic maneuvers in his Long EZ experimental aircraft at EAA air shows all across North America, representing BECKER Avionic Systems. He is based in Huntington, Utah.
Lon said he can fly his115 horse power plane from coast-to-coast with only one fuel stop. "I burn about 5.5 gallons of gas per hour and cruise at an altitude of 10,000 feet. The plane averages 160 miles per hour."
When asked what would happen, if his plane lost power, he replied, "...this aircraft has an excellent gliding capability and I am usually flying high enough so that I could make it to a road or even an airport to land."
Ron is able to release a vapor trail effect, using a parafin-based oil, which he said is, "fairly environmentally friendly." The oil is stored in a special tank that fits into a space in the back seat. "The oil is injected into the exhaust system, then vaporizes like a cloud." The vapor trail adds excitement and lets spectators get a better look at Ron's spectacular skilled aerobatic performance.
The Trojan Phlyers
are members of a flight demonstration team, based in Ft. Worth, Texas. They fly Navy and Marine T-28 Trojans, built by North American's Columbus Division.
T-28s were designed for the U.S. Navy as transition, formation, aerobatic and instrument trainers. They were then reconfigured to be counter-insurgency light bombers, during the Vietnam war. The U.S. lost twenty-three T-28's to enemy action in Vietnam.
Members of this team had originally trained together in Navy Flight School in 1960 and had been Marine Corps fighter pilots in Vietnam, flying F-8 Crusaders, F-4 Phantoms and other aircraft.
John flew combat missions in an F-8 Crusader over North Vietnam from three different aircraft carriers on Yankee Station. Frank flew 105 missions from Chu Lai in South Vietnam over South Vietnam, North Vietnam and Laos. Frank was shot down on his 26th mission - he ejected and was rescued by helicopter.
Both are now retired from the Marine Reserves, where they continued to fly together for many years. They are also retired airline Captains. Frank is retired as a Delta pilot, but still works in the Delta pilot training department as a simulator instructor for the 767 aircraft, instructing international procedures. John flew with Braniff Airways, Piedmont Airlines and USA Air, from which he retired.
The aircraft provided spectators at the Rocky Mountain EAA (Experimental Aircraft Association) with plenty of excitement, during the 24th Annual Rocky Mountain EAA Fly-In at Longmont, Colorado's Vance Brand Municipal Airport in 2003.
A couple of thousand people were on hand to participate in aviation activities, watch the air show and view the 300 to 350 aircraft that flew in from around the country for the event. The annual event was sponsored by local EAA Front Range chapters, which have about 500 members.
The EAA, founded in 1953, has grown to a 170,000-member international recreational aviation organization with about one thousand local chapters.
The name EAA evolved from the experimental aircraft flown by the original founders, which were modified or home-built and were required to display an EXPERIMENTAL placard on the door or in the cockpit. Homebuilt experimental aircraft are popular because they are not subject to the same maintenance requirements as factory built aircraft and homebuilt aircraft builders can obtain a "Repairman's Certificate" which allows them to conduct their own maintenance. Special performance capabilities can be engineered into experimental aircraft to provide the speed, responsiveness and aerobatic capabilities pilots of experimental aircraft want.
The EAA now occupies a multi-million dollar, 150,000 square foot facility in Oshkosh, Wisconsin, which houses its Headquarters and AirVenture Museum. It's annual week-long convention, known as the EAA AirVenture Oshkosh, held at the Wittman Regional Airport in Oshkosh, Wisconsin, now attracts around 12,000 airplanes and over 800,000 spectators. It has become the showcase for cutting-edge aircraft from all over the world, as well as other aircraft, which include homebuilts, warbirds, ultralights, helicopters, aerobatic aircraft, vintage airplanes and general aviation aircraft.