by Mel Fenson
The name Bugatti rings with the fame of the legendary high performance automobiles built by the ingenious Italian automotive designer, Ettore Bugatti, in the 1920's and 1930's. His Bugatti car company was known for its impeccable engineering quality and high styling. The company produced some of the world's fastest and most exquisite automobiles. Bugattis won many racing victories over a few decades. The death of Ettore's son Jean, while test driving a car in 1939, and the destruction of the factory in World War II signaled an end to the original company, except for one last model built in the1950s.

Today the Bugatti brand has been re-established by its new owner, the Volkswagen Group, which has started building limited production sports cars, among which is the exotic new Bugatti Veyron Bleu Centenaire Edition. The sleek Bugatti-blue Veyron, which was named in honor of a French race car driver who won the 1939 24 Hour Le Mans race in a Bugatti, is powered by an 8.0-liter, 16-cylinder, quad-turbocharged engine that can reach a speed of 252 mph. It is the fastest production car in the world. This edition sells for $1.5 million dollars, which makes it the world's most expensive new car. The car was debuted at the 79th International Auto Show in Geneva Switzerland in 2006. Assembly of the new Bugatti is being done in the old Bugatti factory in Mulsheim.

Bugattis built in the 20's and 30's are coveted by vintage car collectors and Jim Stranberg 's High Mountain Classics in Loveland, Colorado specializes in restoring Bugattis and other vintage automobiles from that era.
Jim has been restoring cars for about 40 years. He had started out as an automotive machinist, then studied automobile mechanics at several automotive schools around the country and gained experience from, "just working on cars." He originally started restoring Bugattis, when he worked for Bob Seiffert's Sports and Vintage Motors in Boulder in the 70's. Prior to that he had worked on vintage cars at several different shops, including Phil Riley's restoration shop in the San Francisco area, one of the premiere restoration shops in the country.

When Jim's shop restores cars, he says they, "completely strip them down to the very last nut and bolt and rebuild them to match their original condition as closely as possible." He says, "We replace everything that needs to be replaced and refurbish everything we can. We try to save as much of the original car as possible, so that it is still an original car." He explained, "These old cars have wooden frames, which are typically ash. We remove the metal skin from the frames and rebuild the wood, saving as much of the original wood as we can. After that, we put the metal back on."
"The primary function of our shop," Jim explained, "is to handle the mechanical work." He said he acts as a general contractor and subcontracts out the body, paint and upholstery work to several different shops in the area. Jim noted that it can take up to two years to restore a car.
"Of course Bugattis have crankshafts, pistons and rods like any other engines," Jim explained, " but Bugatti engines are unique because of how they are put together – the clearances and things like that are unusual because they are machined with very close tolerances. Most of the engine parts are made from aluminum. The sump, the crankcase and the handbox are all aluminum. The block and the head are all one piece. The head is integral with the block, so to do a valve job you have to take half the engine apart to get the valves out and you have to take the valves out from inside the cylinders." Since there are few shop manuals available for vintage cars, Jim said they re-build the engines with knowledge gained from previous experience and from examining the engines as they take them apart.
The shop gets a lot of its parts from Europe – England mainly because the British Bugatti club has been very active in making parts. Jim also has a network of people in different car clubs for parts supply and he knows most of the people in the Bugatti world, who can supply parts. "We get a lot of raw castings from the English club, like water pumps for example. Then we machine them to the proper tolerances. We also have a complete machine shop here, which expedites our machining requirements," Jim said. Six people work in the shop, including one machinist and four mechanics.
Vintage car owners find out about Jim's shop through word-of-mouth and ads he places in the Bugatti club magazine.
High Mountain Classics currently has ten vintage automobiles in the shop. Jim said his shop has worked on nearly every model of Bugatti. The oldest car the shop has ever restored was a 1922 Bugatti Type 13 Brescia. The most interesting car they have ever worked on, Jim said, was a Bugatti Type 57 SC Atlantic, which they completely restored. Jim proudly remarked, "It won 'Best in Show' at Pebble Beach in 2003." "Only two of those models still exist," Jim commented, "Ralph Lauren owns one and we have one in our shop, owned by another collector."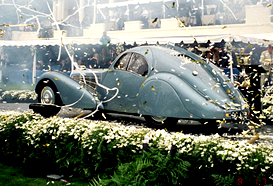 1936 Bugatti Type 57SC Atlantic
Best in Show at Pebble Beach 2003

Photo courtesy High Mountain Classics
Although the specialty at High Mountain Classics is Bugattis, the shop has also done restorations on other classic and vintage automobiles, including Auburn, Cord, Delage, Delahaye, Miller, Talbot, and Voisin.
_______________________________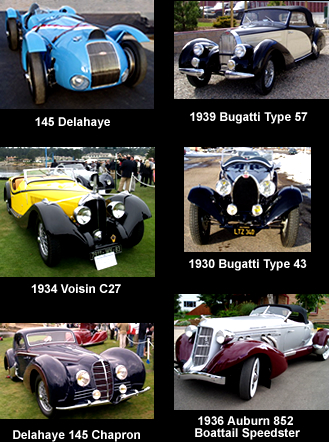 _______________________________

Photos courtesy High Mountain Classics

Jim has raced a Type 37 Bugatti at the Sears Point Raceway in Sonoma, California. He will be racing Bugattis in the upcoming Monterrey Historics at the Laguna Seca Raceway, an big annual vintage racing event held in Monterrey, California every August. He said, "Depending on the track conditions, vintage cars can race up to speeds of 80 to 90 miles per hour on the straightaways, and it takes 2 to 2-1/2 minutes to go around the two mile track." Jim races Bugattis in class 2A, the second fastest class, along with classic Eras, Maseratis and other vintage cars from the 20's and 30's. Jim has also has driven the new Bugatti Verona, "but not at 252 mph," he said.
High Mountain Classics has worked on vintage cars for owners from around the country, including Jay Leno, the recent host of the NBC Tonight Show, who owns five or six Bugattis among his huge car collection. "Occasionally," Jim said, "cars are shipped from overseas to be restored, if the owners are getting ready for a race or a rally." Jim added, "In addition to today's wealthy car collectors, some Bugatti owners bought their cars years ago when they could be purchased for as little as $2,000 to $20,000." "Years ago," he continued, "although Bugattis were valuable even then, older ones were just considered old cars. Now, Bugattis can be worth from two hundred thousand to ten or fifteen million dollars, depending on the model." Out of approximately 7,900 cars originally built by Bugatti, only an estimated 2,000 remain today. Many were lost as a result of wrecks and war.
When classic Bugattis restored by High Mountain Classics are returned to their owners, they look as beautiful as they did when they rolled off the factory floor in Mulsheim in the 20's and 30's.
For more information, visit the
High Mountain Classics website at:
www.highmountainclassics.com