by Mel Fenson
Renowned Taos Pueblo artist, storyteller and writer, 56 year-old, Jonathan Warm Day is known for his colorful acrylic paintings, which provide a visual narrative of the daily experiences and spiritual life drawn from his many childhood memories at the Taos Pueblo in New Mexico. His earthy paintings illustrate the graceful and enduring lifestyle of the Taos Pueblo people and their respect for nature.
Jonathan is committed to preserving the memories of the now vanishing pastoral lifestyle and rich cultural heritage of the Taos Pueblo through his paintings. His work depicts scenes of daily life there throughout the four seasons and illustrates the traditions and customs that are part of the heritage of Taos Pueblo. His paintings also depict the surrounding landscape, animals and nature.
Jonathan began woodcarving as a child, and then inspired by his well-known artist mother, Eva Mirabal (whose Indian name was Eah-Ha-Wa, which means Fast Growing Corn), he became interested in drawing. Eva Mirabal had been a student at the famous Santa Fe Indian School, during its artistic renaissance under the direction of Dorothy Dunn, who was the founder of the art program there in the 1930s. Many famous Native American artists emerged from the school, which developed a distinctive style of Native American painting. After graduating from Taos High School, Jonathan attended Diné College in Tsaile, Arizona, and then studied art at the University of New Mexico. Although his colors have been influenced by his mother's paintings, his style is his own.
He works primarily with acrylic on canvas, but has done some serigraphs, one of which was, "A Night for Songs and Stories," which was a poster for the former Taos Talking Picture Film Festival. The poster has been was of his most popular paintings. All of his paintings are available as Giclée prints, which are fine art prints, produced using a digital printing process to print on canvas. Prints may be ordered in various sizes, but are typically 26" x 30." Although he sells mostly canvas prints shipped in poster tubes, he will stretch prints sold locally and he sells some originals. His paintings are printed by the Barry Norris Studio in Taos www.barrynorrisstudio.com, and range in price between $300 and $500.

Jonathan has previously exhibited some of his work at Taos galleries, but now mostly sells his work locally by appointment at his house at the Pueblo. However, his work is exhibited in Santa Fe at the Hotel Santa Fe.
One of his images, "The Last Supper," which was a social protest painting done in the early 90's, gained wide interest. The painting depicted a Taos Pueblo family sitting in their home in the Pueblo, during a meal, looking through a window at silhouetted Spanish Conquistadors riding by. He painted it in response to a visit to the southwest by dignitaries from Spain. It was a simple visual statement that expressed powerful emotion. Jonathan noted, "Although the Hispanic community was looking forward to their arrival, there was a different feeling about the visit on the part of the Native American community because it brought to mind old wounds."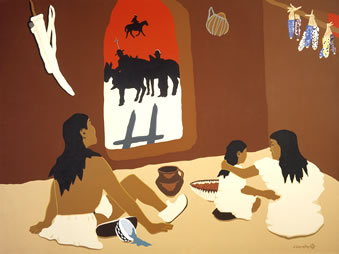 The Last Supper
The painting was purchased by the Millicent Rogers Museum in Taos for its permanent collection. Shortly thereafter, Joseph H. Suina, an associate professor in the College of Education at the University of New Mexico from Cochiti Pueblo, wrote an essay about the event, which appeared in the January 1992 issue of New Mexico Magazine. Jonathan's image accompanied the story. Turner Publishing Company also asked to use the image in a large coffee table book called, "The Native Americans," and for an accompanying calendar. The painting has also been featured in a college history textbook, "First Peoples, A documentary survey of American Indian History," by Colin G. Calloway, a professor of Native American Studies at Dartmouth College. It was also used in a grade school history book titled, "Perspectives, Authentic Voices of Native Americans," published by Curriculum Associates.
Jonathan Warm Day has published a couple of his own books, including "Taos Pueblo Painted Stories," published in 2002, by Clearlight Publishers of Santa Fe, which is now in its second printing. The stories in the book are drawn from both Jonathan's personal experiences and his family's oral traditions. He expressed the hope, "...that knowledge of this way of living in harmony with one another and with nature and the seasons of life can help make the world outside of Taos Pueblo become a better place and help keep Pueblo traditions alive for future generations." A story about the book was featured in the December 2005 issue of New Mexico Magazine. Another book, "Kiki's Journey," was published by Children's Book Press of San Francisco. It tells the story about a little girl from LA , who is brought to Taos Pueblo to meet her grandparents for the first time. He is also working on a novel about a little boy who grows up on the Taos Pueblo in the mid-30's. The story follows him through the boarding school and early art community eras in Taos, then throughout his life until the end of WWII.
Some of Jonathan's work is currently being shown in an exhibit at the Castalini Art Museum in Niagara, New York, which runs until June this year, and some of his work will also be exhibited as part of an illustrator's exhibit at the Museum of Anthropology and Culture in Santa Fe in 2009. He was the poster artist for the Taos Mountain Balloon Rally in 2000, and he was commissioned to design an emblem for the Executive Department of the Town of Taos.
Jonathan's images are also now being used in the fashion world. Zandi Designs, a designer of original and exotic fashions in Talpa, New Mexico, used Jonathan's painting, "The Sun Rise," as a graphic image on one of its washable silk float coats and used his daughter, Carly, to model it for the company's website catalog. http://www.zandidesigns.com/line.html#5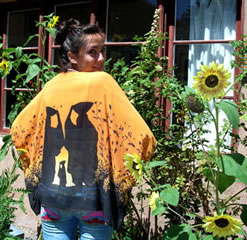 Carly models Zandi float coat.
Jonathan said he is devoting part of his time now to researching and gathering a collection of his mom's artwork. Some of her work is currently represented in a show about comic art illustration at the Santa Fe Museum of Anthropology which opens May 11 this year. She designed cartoon images for the military, while she was a WAC in the Woman's Air Corp, during WWII.
Jonathan Warm Day lives at the Taos Pueblo with his two daughters, Carly 20 and Jade 21, who are both athletes.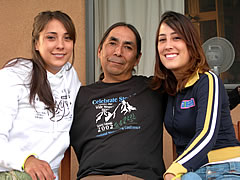 Jonathan with Carly and Jade

Photo by Giovanna Paponetti

To purchase prints,
contact Jonathan Warm Day
in Taos at:
jonathanwarmday@yahoo.com
Tel 575-751-1273