by Mel Fenson
Taos artist, Giovanna Paponetti, is well known for her striking paintings and murals of Native American and Hispanic people, their history and their culture. Many of her portraits are great examples of illustrative photorealism. Her historical scenes take viewers back in time to relive and capture defining moments in the history of the southwest. Based on in-depth research, interviews and travel, her compelling images deliver authenticity and instill the spirit of the Native American and Hispanic cultures, past and present. Not surprising, Giovanna's museum-quality work has been compared to that of some of the great masters in art.
Giovanna's first trip to Taos was on January 6, 1990, while she was attending Albertus Magnus College in Connecticut, where she received her Bachelor of Fine Arts degree in art history in 1991. During that time, she accompanied an anthropology class to New Mexico to study Native Americans. When she returned home, she began work on her report: The Pueblo Revolt of 1680, which stimulated her interest in southwest history. As a result, she disovered the passion she had been searching for and was inspired to paint Native Americans. Giovanna moved to Taos from Connecticut in March 1992. After Giovanna relocated to Taos she notes, her paintings "began to reflect my deep spiritual connections to wildlife and the Native American culture."
Giovanna has found great success with her paintings, among which is her Storyteller II painting that was inspired after a visit with a Navajo storyteller in Arizona. She photographed him as he sat next to a fire singing and telling Navajo stories. This painting was sold for $6,200 at the 2002 Taos Invites Taos Show. This painting was followed by Storyteller III, which was also well acknowledged, and sold for $8,700 at the Taos Fall Arts Show two years later. Giovanna's painting Spiritual Reflections III was chosen by the Ellsworth Air Force Base in South Dakota to use for advertising posters, flyers and programs in celebration of a Native American Indian Heritage Month in 2005. Other recognized work includes a portrait of New Mexico State Representative, Nick Salazar, which was unveiled at a dinner in Santa Fe in 2004 - that was attended by 200 representatives of the Small Business Development Center. The painting was then displayed at the State Capitol the following day. Also in 2004, Giovanna was chosen by Taos News, the local newspaper, to paint four portraits of prominent Taos citizens, including the Citizen of the Year, Tony Reyna, who was from Taos pueblo. The other three portrait subjects were Robert Mirabal, a famous Taos musician, Robert Medina, a Bataan Death March survivor and successful business man, and La Llorona a legend in Mexico and New Mexico. La Llorona was a beautiful but poor young woman, who experienced love and anguish. Giovanna chose as her model for the painting, a beautiful Hispanic woman, who loved the story of La Llorona, during her childhood, and often recited it in Spanish.
The original paintings were unveiled during a special presentation at Taos' Stake Out Restaurant, and they appeared on covers of several sections of the Taos News the following day. They were also displayed for a month at a time at the main branches of Taos' three banks.
One of her more significant works is her colorful series of Taos Timeline Murals, which adorn an exterior wall of the Taos Town Hall, for which she was commissioned in 1998. The lifelike images capture the historical essence of the Taos Pueblo. Giovanna said the Murals required "careful research and trips to the Santa Fe Archives." She even spent time on an archeological dig in Taos to gain more insight into the Pueblo's past, before she began her conceptual sketches. Her Taos Timeline Murals are now considered a major landmark in Taos. Two of her Taos mural images were featured in a segment of Oregon Public Broadcasting's historical documentary, America's History in the Making , that aired in 2007.
The success of her murals has brought her more mural commissions, including a significant commission by the St. John the Baptist Church at Ohkay Owingeh pueblo, the oldest parish in the US (formerly San Juan pueblo) - to create 21 historical paintings to illustrate the life of a 17th century Mohawk woman, Kateri Tekakwitha, the first Native American selected to become a Saint. After the paintings were placed in the wooden altar at the parish, a dedication event was held and a blessing was given by Archbishop Michael Sheehan. Father Terrance Brennan, the parish Priest, was also present.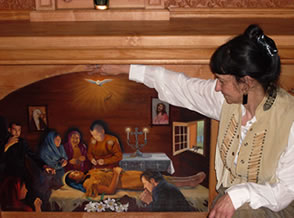 Giovanna with one of her paintings
of Kateri Tekakwitha
Giovanna is also working on a book in collaboration with a Santa Fe publisher, in which these murals will be used for illustration, along with accompanying stories.
Her images have also found their way into a number of history books and other publications, among which was: Our World, New Mexico Edition, a Social Studies textbook published in 2004 by McGraw Hill Publishing of New York. Her mural image, Don Juan De Onate Visits Taos was used in the book. A children's book, We the People: The Pueblo and Their History, published by Compass Point Books in 2005, also included the same Don Juan De Onate image. The New York Times included the same image in its Upfront Magazine in a 2006 story.
In demand, Giovanna was invited to present her art to the Native American students at Stanford University in 2004. Her presentation included images of her murals, wildlife paintings on drums, and numerous Native American portraits. In addition, Giovanna also gave a lecture, presented a video, and displayed her paintings at the Stanford Cantor Arts Center.
Other recognitions include her being named as one of the 40 most prominent artists in Taos at the 2003 Taos Spring Arts Show. Her work appeared on the cover of The State of New Mexico Bench and Bar Directory. She was also invited to present a one-woman art exhibition at the Taos Convention Center, during the New Mexico State Bar's 1994 convention.
In addition to her painting and her many other interests, Giovanna teaches drawing and painting at The University of New Mexico's Taos Branch, and she is a member of the Native American Advisory Board there.

Giovanna works with Vasari Oil paint, a pure pigment paint. She paints primarily on linen, except certain other commisioned paintings, which require special materials. Her giclee prints are availble on canvas and on rag paper. Her prints and original art may be purchased directly from her studio.
Ever inspired by Taos and its Native American and Hispanic cultures, Giovanna continues to portray the lives and history of its people in her paintings, and to be "drawn to their powerful spirit of strong family ties, laughter and faith."
To view more of Giovanna's art,
visit her website at

www.newmex.com/giovanna