by Mel Fenson
"Safari through African Folklore Embroidery", a book written by Leora Raikin, which will be published this spring, will describe the art of African Folklore Embroidery. Leora, a white South African, who is now a U.S. citizen living in California, learned this creative needlecraft technique fom her mother, who still lives in South Africa. Leora said, "African folklore embroidery is all about color and creativity." She described it as a cultural style of needle art stitched into squares of black fabric that depicts colorful scenes of Africa's wild animals and illustrates African tribal village life, customs and traditions.
She explained that the technique used in African folklore embroidery is a combination of needle, fiber and visual arts, which incorporates simple chain stitches of bold primary colors on a black background.
Leora travels to different tribal areas in Africa to collect creative ideas and obtain the designs and vividly colored hand-dyed threads, which are used in the do-it-yourself embroidery kits she markets through her company, African Folklore Embroidery. The African design patterns, which are drawn by South African artists, "depict the beauty of Africa," she said. "The embroidered designs can be made into pillows, quilts, wall-hangings and purses, or stitched onto garments as wearable art," she added. Leora said that she uses a portion of her profits to buy clothing and school supplies for the South African charities.
According to Leora, her book, "Safari Through African Folklore Embroidery" provides information and stories about Africa's wildlife - its lions, rhinos, hippos, elephants, buffalos, zebras, leopards, birds, monkeys, and crocodiles, as well as information about the flowers and flora in South Africa. The book provides designs for embroidery that relate to these aspects of Africa and decribes the different stitches and techniques used to complete an African folklore embroidery design. In addition, it provides facts about African tribal traditions and customs, such as those of the Ndebele (pronounced in-da-belly) tribe from which many of the embroidery designs have originated. The book also provides information about the crafts of basket weaving and African mask making.
To top off the content, Leora adds tips about her favorite places to visit in South Africa and even includes some of her mom's favorite recipes.
Leora established the African Folklore Embroidery Educator Training program in 2003. She trains educators to teach the techniques and history of African Folklore Embroidery and tribal traditions. Her workshops and exhibitions have been held at museums and schools across the country, and she also offers private classes and summer camp programs.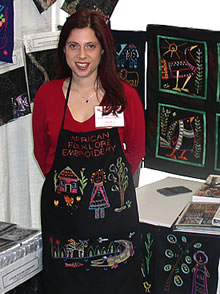 Leora Raikin

In an effort to assist with the education and care of families with AIDS in Africa, African Folklore Embroidery is affiliated with KIDZPOSITIVE, which is an AIDS charity in Cape Town, South Africa. KIDZPOSITIVE enables HIV- infected women to support their families through the sale of hand-beaded products that are made by moms with AIDS and whose kids have AIDS. It's their main source of income. Their products are available for sale on the African Folklore Embroidery website.
"Safari Through African Folklore Embroidery"
will be available for sale online at
the African Folklore Embroidery website:

www.aflembroidery.com